Robert Smit – Craving The Essentials
PRESS RELEASE

ROBERT SMIT – CRAVING THE ESSENTIALS
Jewellery and fine art
CODA Museum | 16.01 to 24.04.2022 | www.coda-apeldoorn.nl/robertsmit
With the exhibition Craving the Essentials, staged from 16 January to 24 April 2022, CODA presents an overview of the rich and varied oeuvre of visual artist Robert Smit. Although he mainly gained fame as a jewellery maker, this exhibition shows the wide range of his oeuvre and his development as a visual artist. Craving the Essentials combines his photography, drawings and recent digital prints with jewellery from museological and private collections from the Netherlands and abroad. The exhibition also includes works by Robert Smit that CODA acquired over the past decades. 
The work of Robert Smit (1941) occupies a unique position and is averse to trends, hypes and dogmas. The main characteristic of his oeuvre and development is undoubtedly the way Smit continuously explores and questions his own method. Smit trains as an instrument maker but soon specialises in jewellery making. In the early 1970s, he turns away from jewellery, however. He sees jewellery as visual art and does not agree with the general view on jewellery at the time, which solely focusses on the artisanal aspect or the design of jewellery. He sells his goldsmithing tools and decides to focus on drawing and painting. During this period, he makes Towards the Liberation of Drawings, a series of ten exhibitions that chart his search for the meaning, significance and context of drawing. When he eventually returns to jewellery making, this period will prove to have had great influence on his development. Drawing always remains a source of making, remaking and reproducing for Smit.
In 1985, Smit decides that his exploration of drawing is completed and that there is nothing more to add. This conclusion gives him the freedom to refocus on jewellery. His comeback, marked by the exhibition Ornamentum Humanum at Galerie Ra in Amsterdam, causes great controversy. Smit's exuberant gold jewellery clashes with the geometric and austere style that is in vogue at the time. During this period, precious metal smiths and artists revolt against the notion that jewellery should be appreciated based on material, rather than on actual design. Gold as a material is abandoned, and there is a growing aversion to a product that has investment value. Gijs Bakker, one of the leading designers of that period, calls Smit's use of gold a return to jewellery as a status symbol, and therefore regression. Smit is not impressed and uses gold as it has never been used before: he curls it, scratches it, flattens it and prints on it.  
About Robert Smit
Robert Smit trained as an instrument maker, after which he began working as a goldsmith. Thanks to visual artist Jan Schoonhoven, he becomes interested in jewellery and artistry. He decides to attend the renowned Pforzheim college, where he is taught by Klaus Ullrich (1927-1998) and eventually graduates with honours. Smit's early jewellery works is characterised by a unique visual language, with his sculptural and abstract works reflecting his preference for texture and erosion of and on surfaces. Gold quickly acquires a crucial role in Smit's work, and the influence of prominent visual artists of that period, like Lucio Fontana (1899-1968), can be traced in his pierced jewellery made of gold and Perspex. As opposed to many traditional goldsmiths, Smit uses the material in an expressive and pictorial manner. 
Craving the Essentials is staged in CODA Museum from 16 January to 24 April. During the same period, the work of Arno Kramer is shown in the exhibition In Time. Both exhibitions reflect CODA's focus on drawing and drawings, which is also exemplified by the annual Big Draw festival and exhibitions like Private Confessions, which brought together the drawings of 36 visual artists.
Interview Robert Smit with Rianne Groen
CODA geeft met 'Craving the essentials' tot en met 24 april 2022 een overzicht van het rijke en veelzijdige oeuvre van beeldend kunstenaar Robert Smit. Hoewel hij internationaal een grote reputatie verwierf als sieradenmaker, laat deze tentoonstelling voornamelijk de reikwijdte van zijn oeuvre en zijn ontwikkeling als beeldend kunstenaar zien. 'Craving the essentials' combineert zijn fotografie, tekeningen en recente digitale prints met sieraden die afkomstig zijn uit museale en particuliere collecties uit binnen- en buitenland. Ook de werken die CODA in afgelopen decennia van Robert Smit verwierf, maken deel uit van de tentoonstelling. In deze video gaat CODA conservator Rianne Groen in gesprek met Robert Smit over zijn werk en de tentoonstelling in CODA. Camera & Edit by Leroy Filon / Wij zijn Wolf
Gisteren in het Apeldoornse Coda Museum gedwaald door een opvallend homogeen levenswerk , dat helemaal in het teken staat van een zoektocht naar de essentie van de beeldvorming, nadat de Kunst rond 1960 ook in Nederland was terug gebracht tot het Nul stadium, het Zero moment, van waaruit nieuwe mogelijkheden werden geëxploreerd.
Onder het puin van die explosie kwam in de jaren zestig een generatie kunstenaars te voorschijn die in een fundamenteel onderzoek de werkelijkheid nog verder deconstrueerde en de brokstukken analyseerde. Een van hen was Rob Smit , als edelsmid opgeleid , maar in het voetspoor van de Nulbeweging, in Delft bevriend met Jan Schoonhoven, ging hij al snel op zoek naar het wezenlijke In de Kunst en dat op een bijzonder radicale manier. Niets werd meer als vanzelfsprekend aanvaard. In eerste instantie werden de elementaire beeldende middelen , kleur en vooral lijn ter discussie gesteld , in een reeks tentoonstellingen :" Towards the liberation of drawing." Daarna moesten de zekerheden van het ambacht, sieraden maker, waarin hij was opgeleid, het ontgelden. De tentoonstelling " Ornamentum Humanum", was bepalend . Geen sieraden werden getoond , maar mobiele , draagbare , kunstwerken.
Die werden dan wel uitgevoerd in kostbaar goud , dat ondergeschikt werd gemaakt, als het ware gedegradeerd tot beeldend middel. Noblesse oblige. Hierdoor werd het ambacht geëmancipeerd tot autonoom uitdrukkingsmiddel.
Dit alles is nu te zien in Apeldoorn in een als samenhangende installatie vorm gegeven dynamisch labyrint , waarin niet de chronologie en causaliteit uitgangspunt van de presentatie is, maar de doeltreffendheid van het visuele onderzoek.
Hierbij zo maar wat waargenomen brokstukken van het levensverhaal, waar ik met de schok der herkenning doorheen ben gelopen.
---
THE ESSENTIALS
Yesterday in the Coda Museum in Apeldoorn I encountered a remarkably homogeneous life's work, which is entirely devoted to a search for the essence of images, after Art hadbeen reduced in the Netherlandsto what artistscalled "NUL", the Zero moment and Big Bang, from which new possibilities were explored In the 1960s.In the turmoilof that explosion, a generation of youngartists emerged who, in a fundamental way, deconstructed reality even further and analysed the fragments of the rubble left.
One of them was Rob Smit, trained as a goldsmith, but, part of the circle of the artist Jan Schoonhoven in Delft, he quickly went, in the footsteps of the Zero Movement, in search of the essential In Art, in a particularly radical way.Nothing was taken for granted anymore.Initially, the elementary visual means: matter and color, but in particularline,seen as a trace in time,were discussed in a series of exhibitions: "Towards the liberation of drawing". After that, all the certainties of the craft of thejewelry maker, in which he was trained, were lost. The exhibition "Ornamentum Humanum" was decisive. No traditional jewelrywere shown, but mobile, wearable, works of art.They were made in precious gold, which was subordinated, as it were degraded, to a pure visual medium, with a specific value of its own. Noblesse oblige. As a result, the craft was emancipated into an autonomous form of expression. Rob Smit is primarily an artist and draughtsman.All this can now be seen in Apeldoorn in a kind of dynamic labyrinth,designed as a co-ordinated installation, in which the presentation is not based on chronology and causality, but on the impactof the visual investigation.Attached aresome of the visual fragments of this extraordinary life story, which I walked through and observed, with a shock of recognition.
Franck Gribling 28-2-2022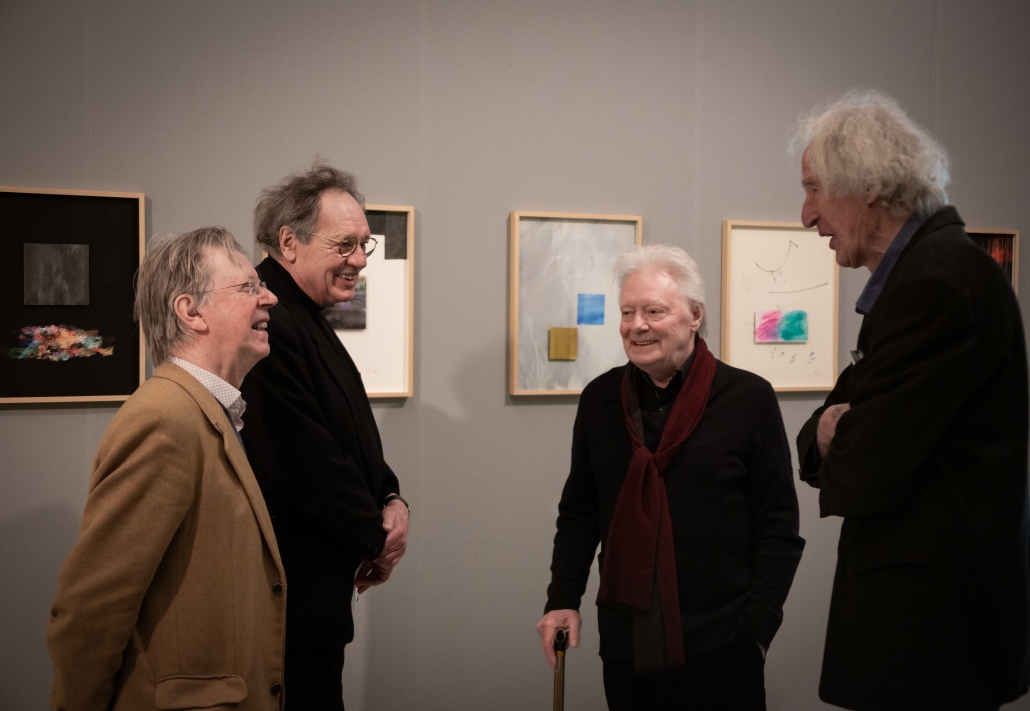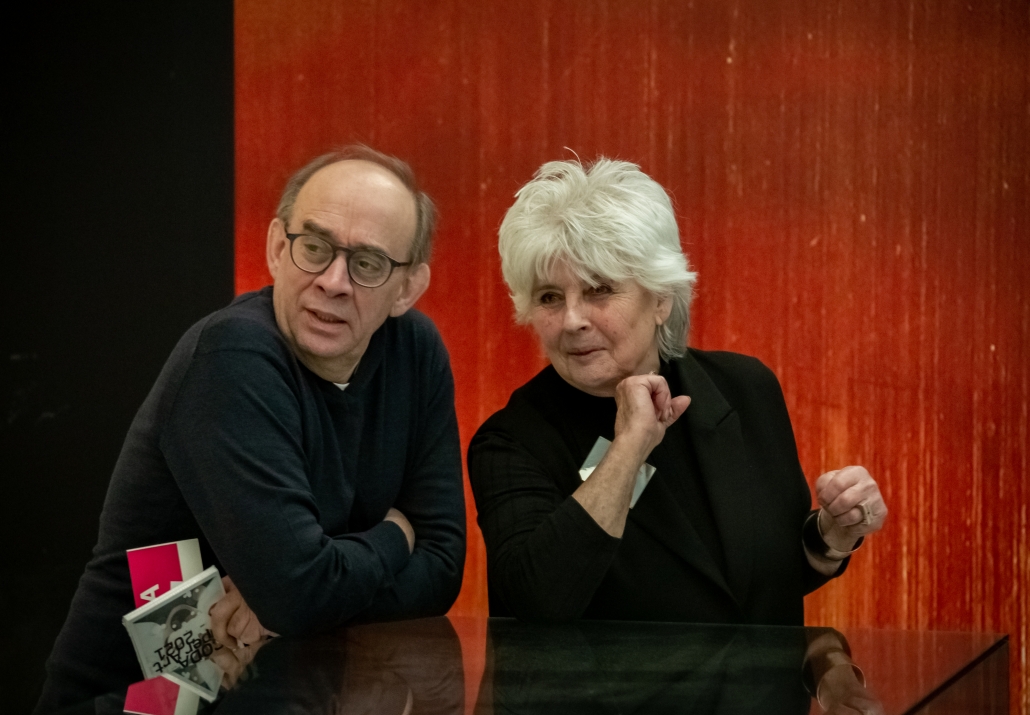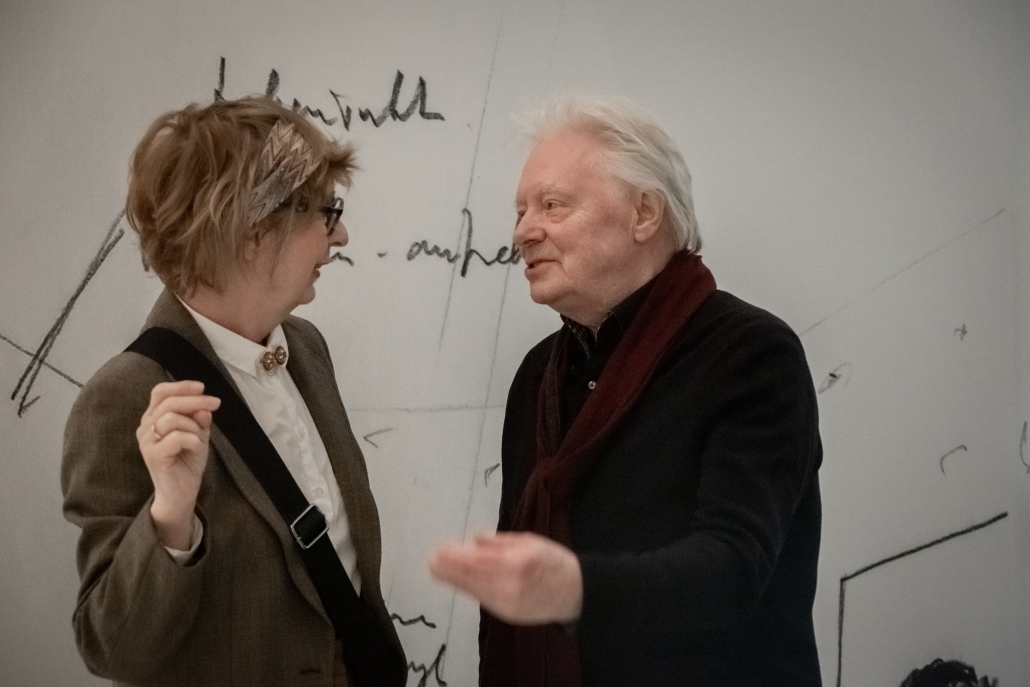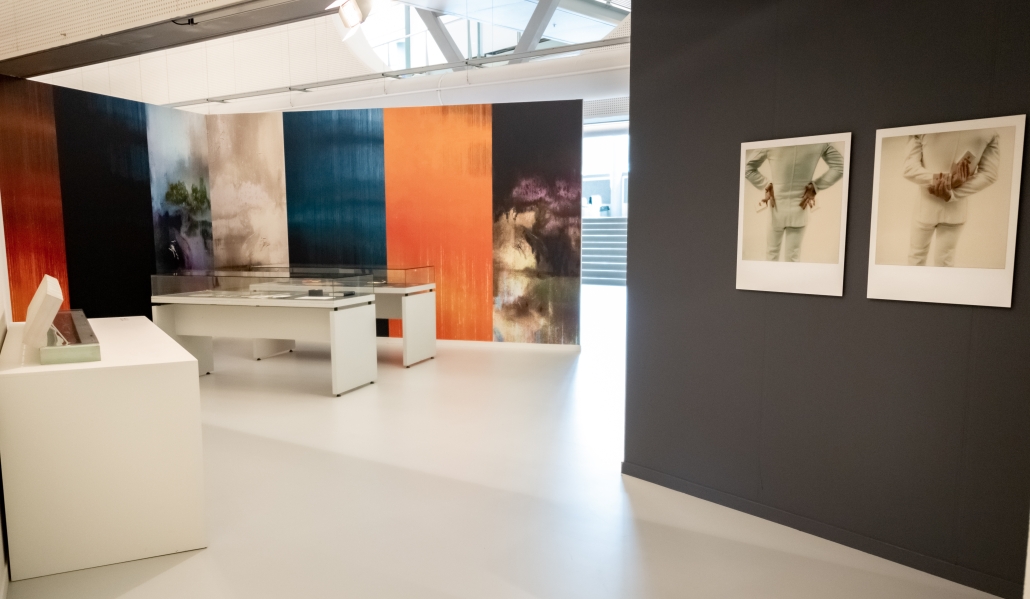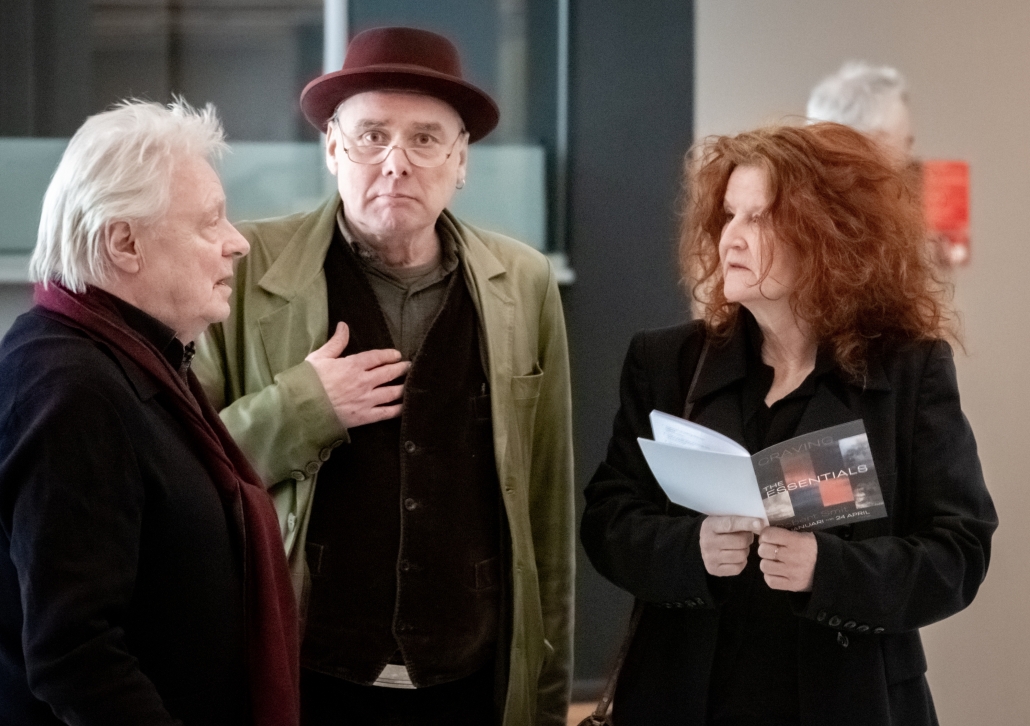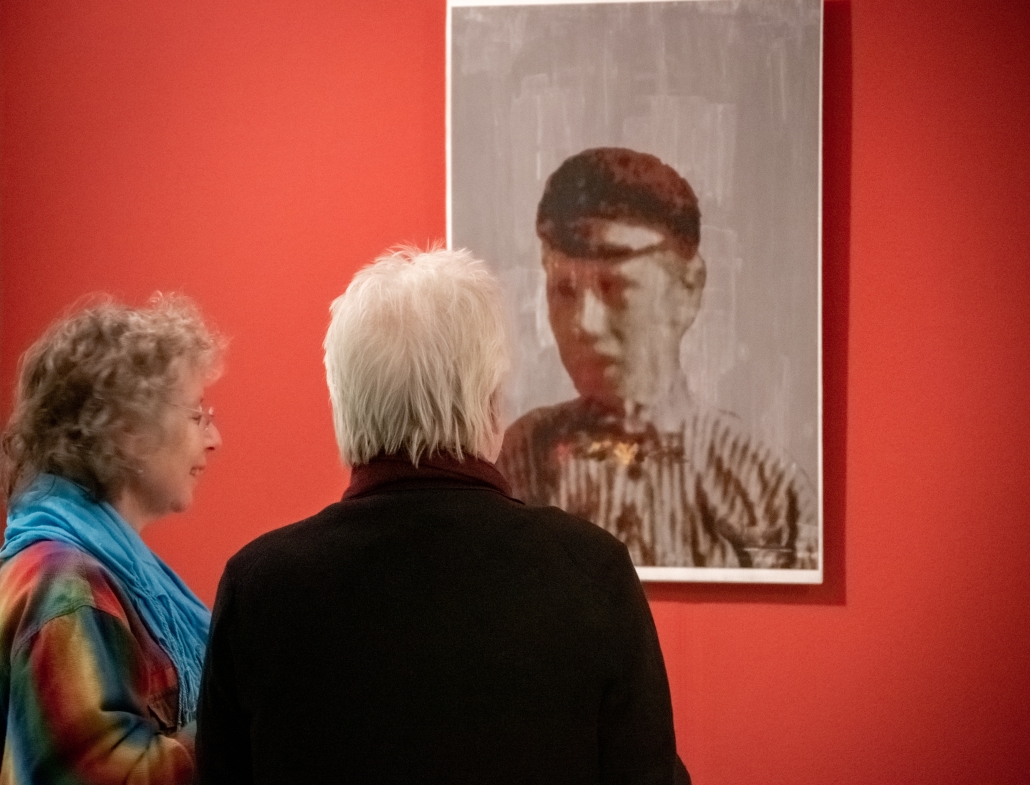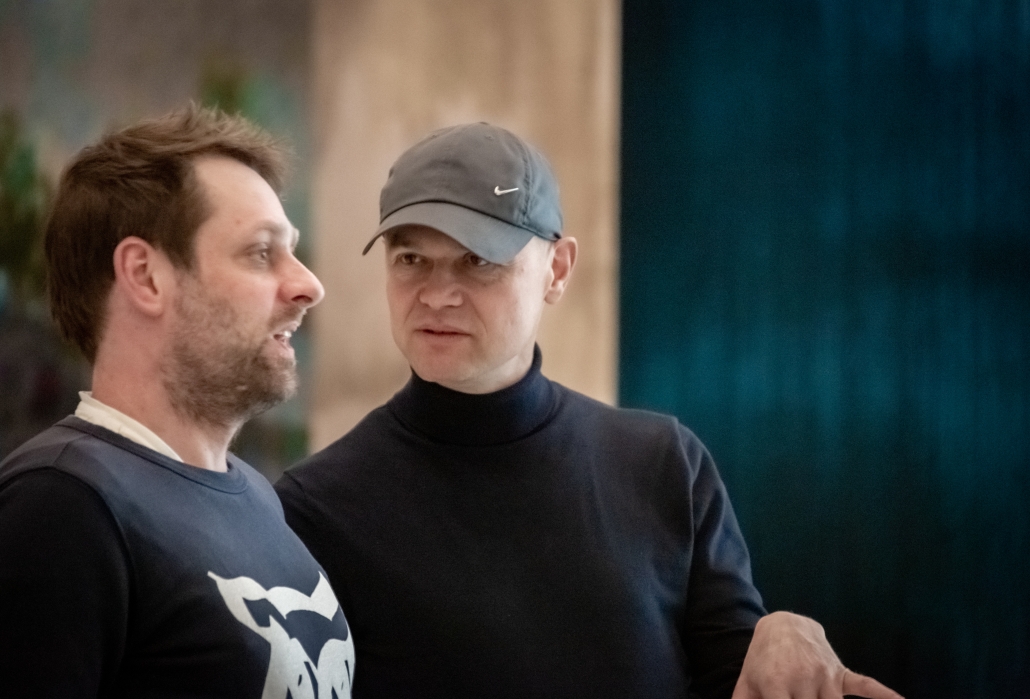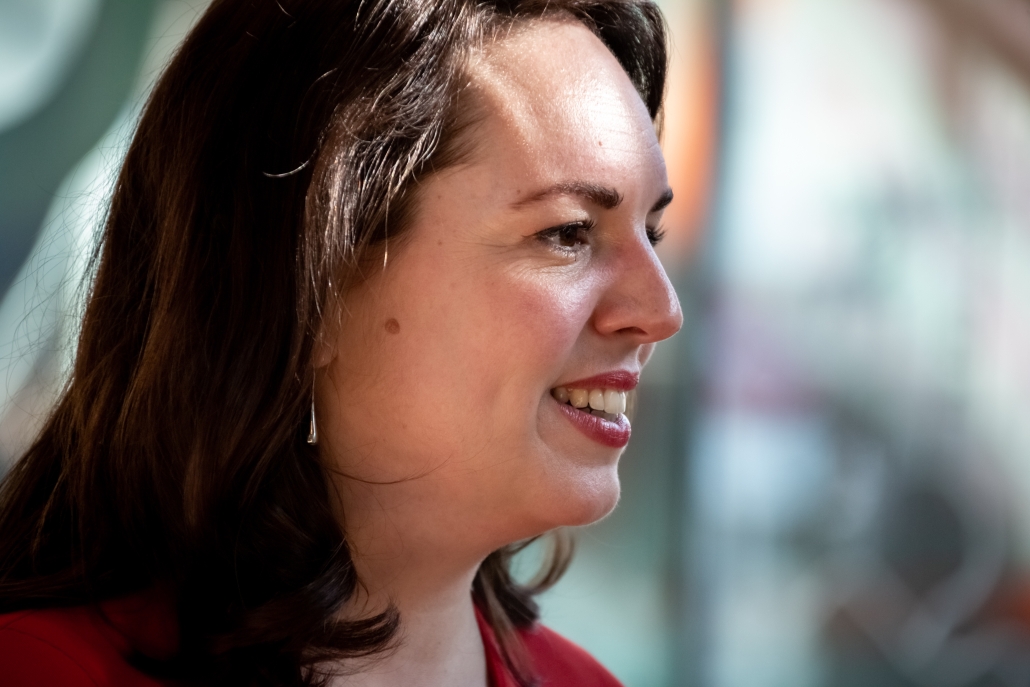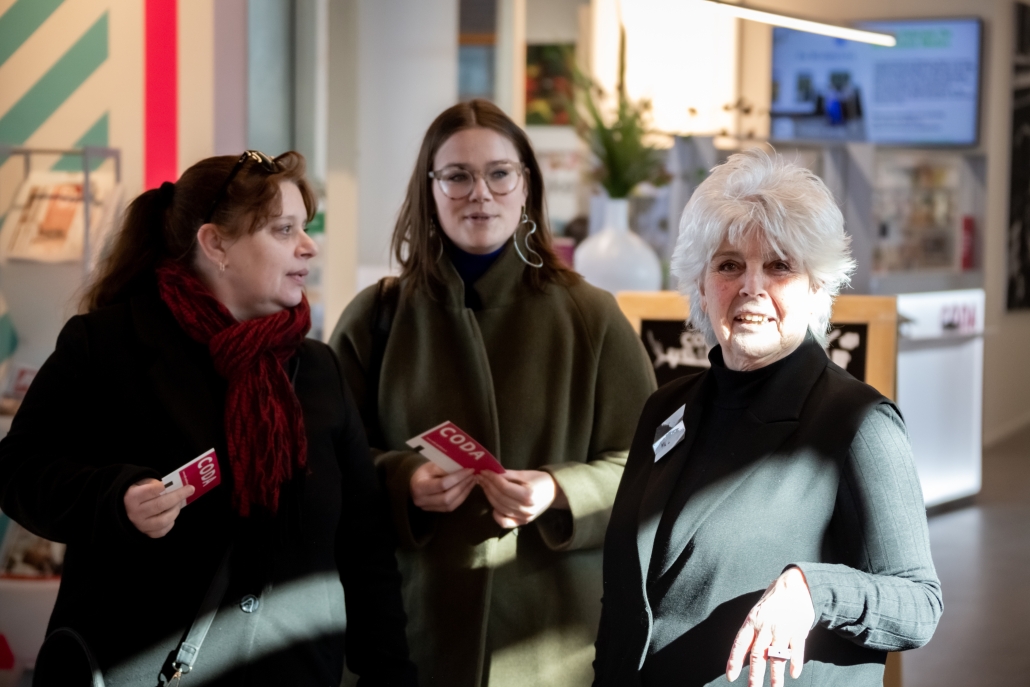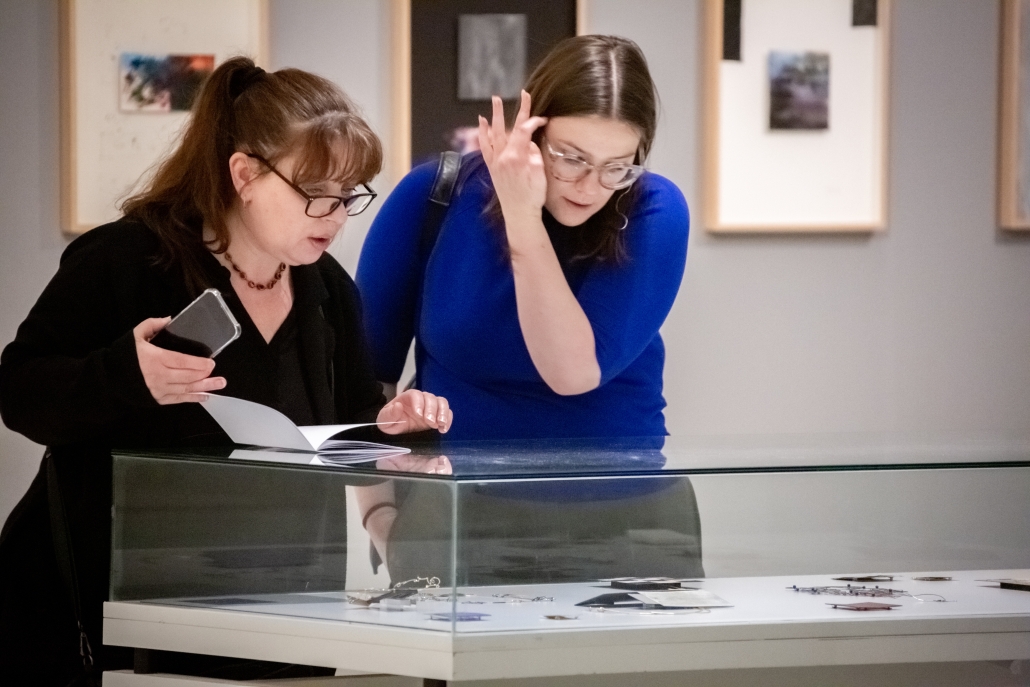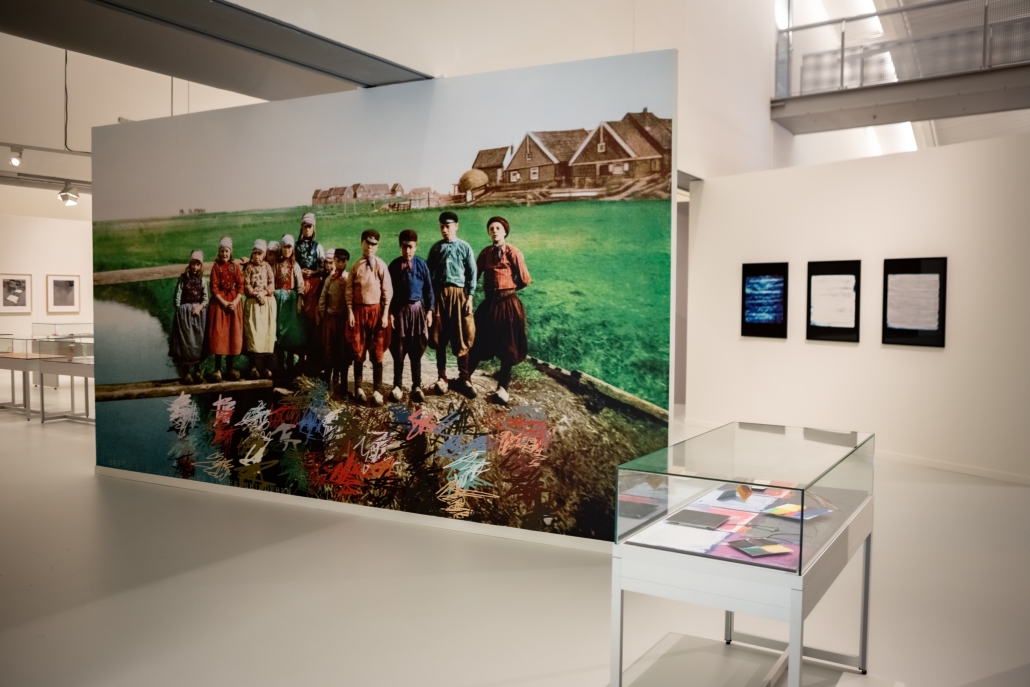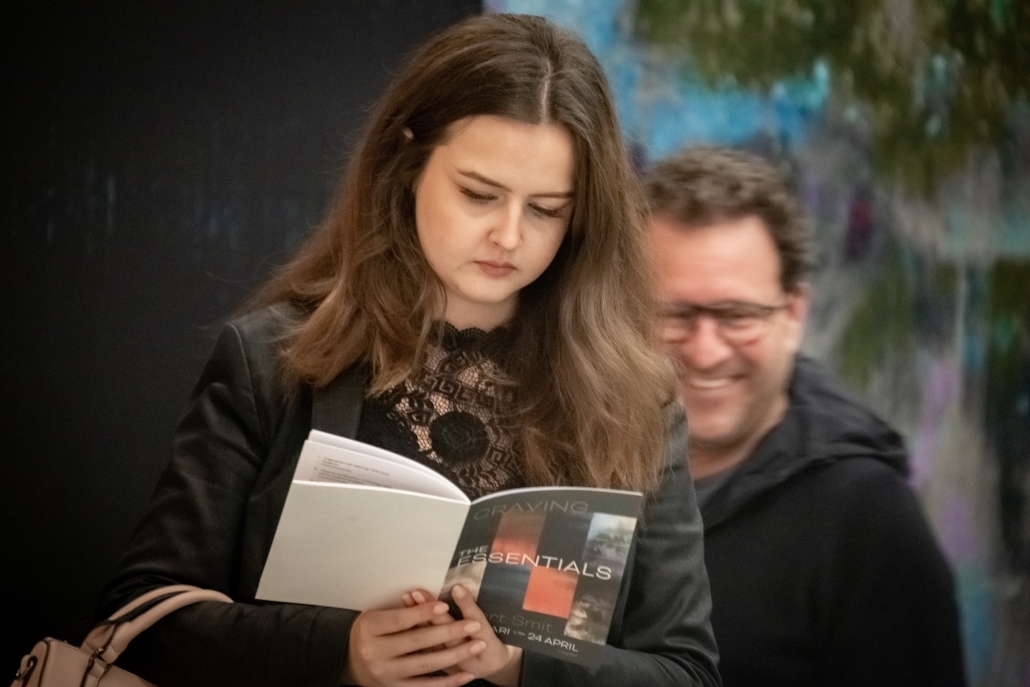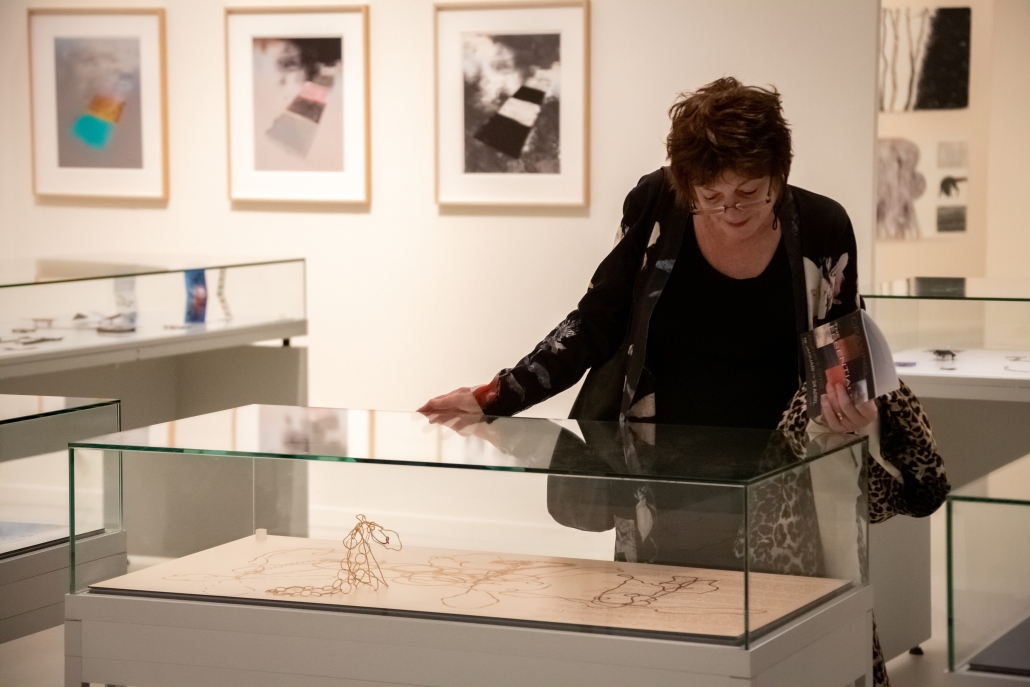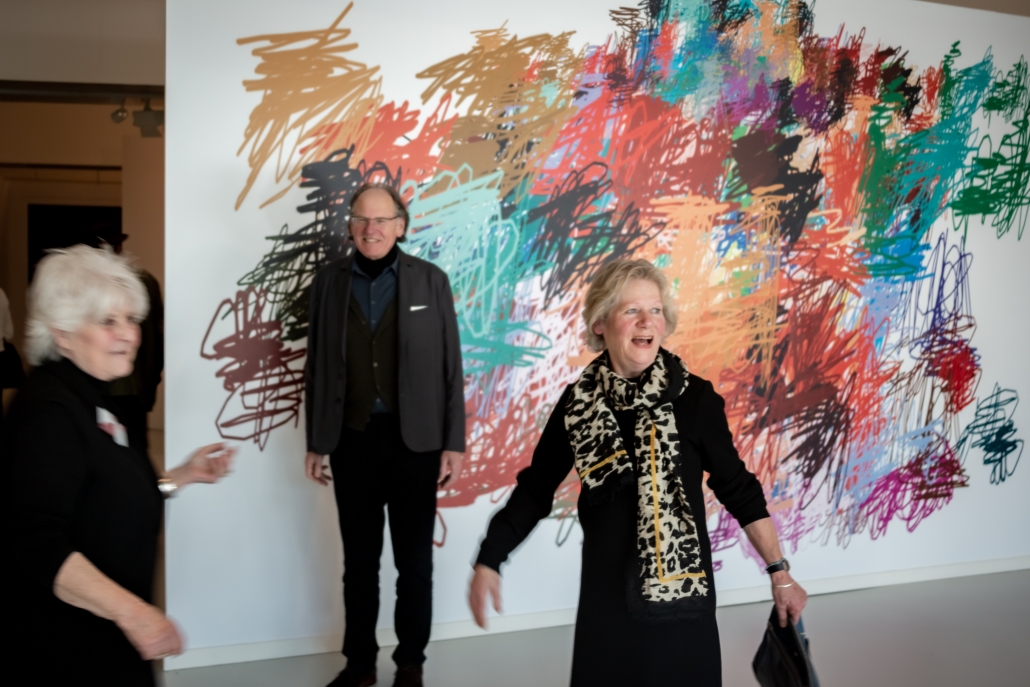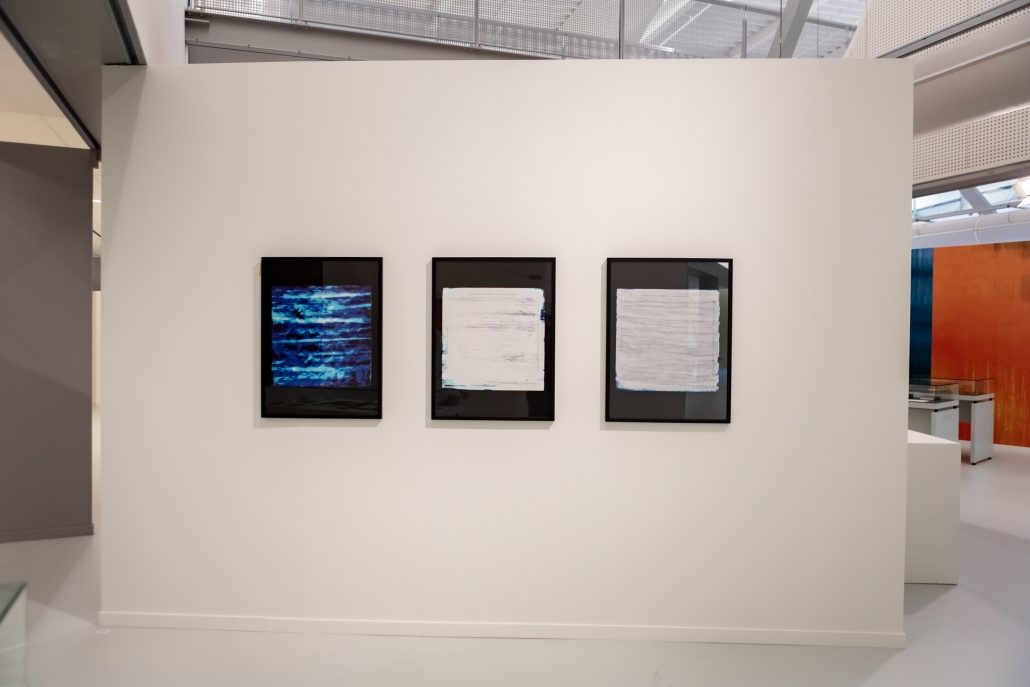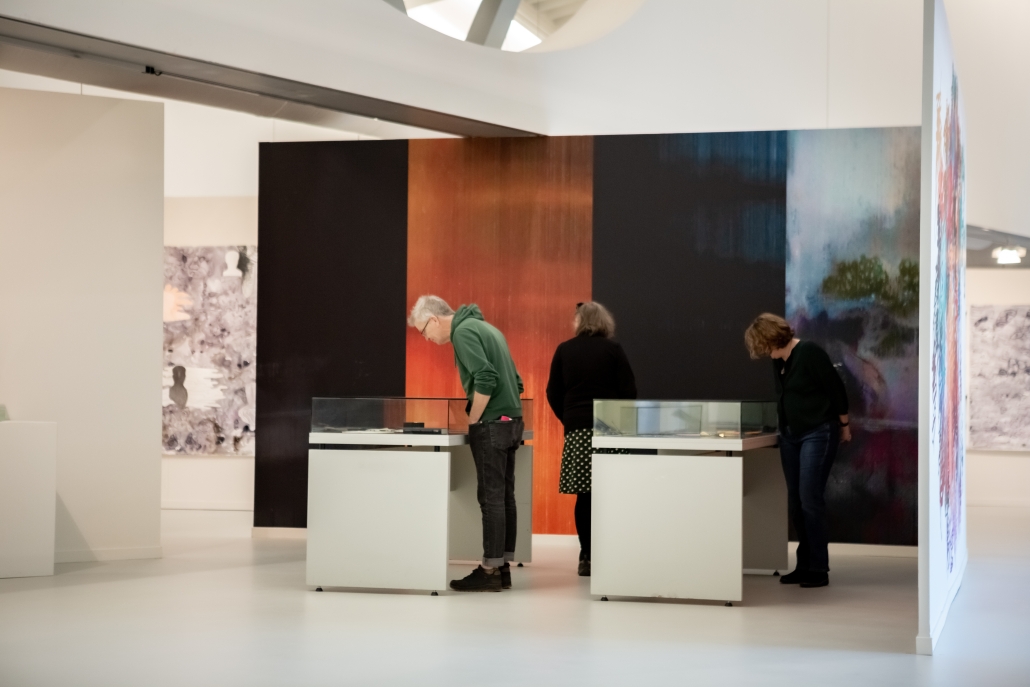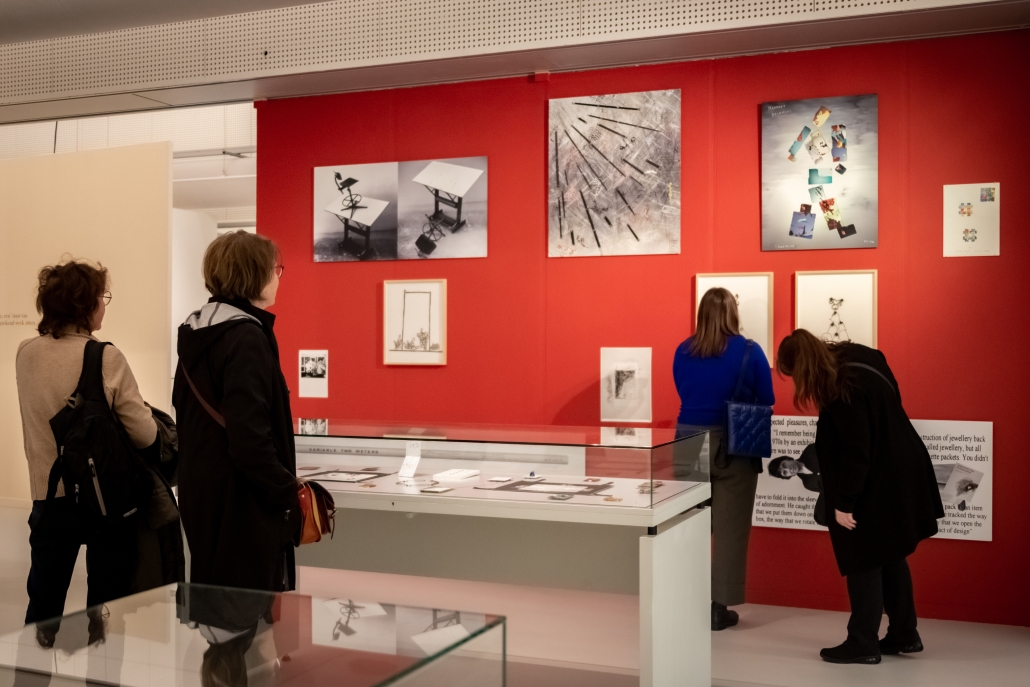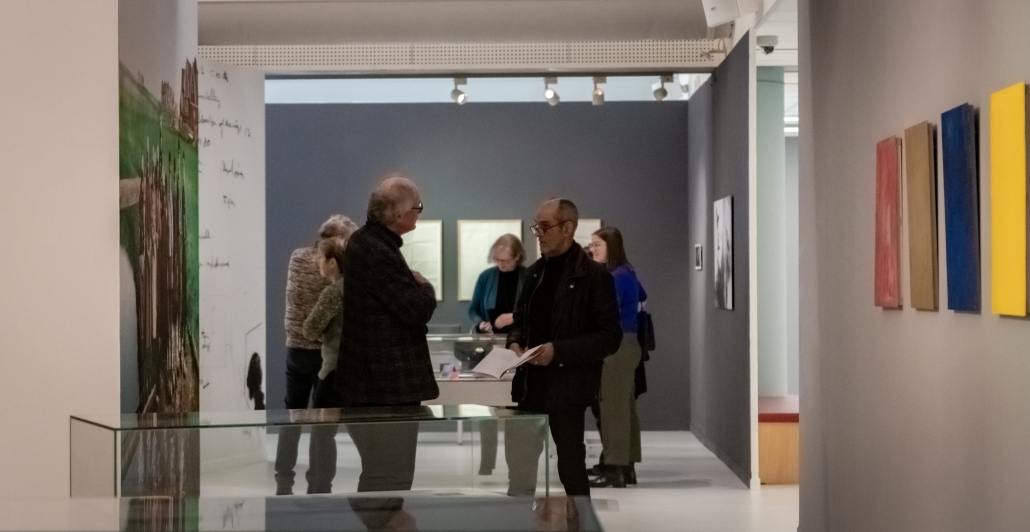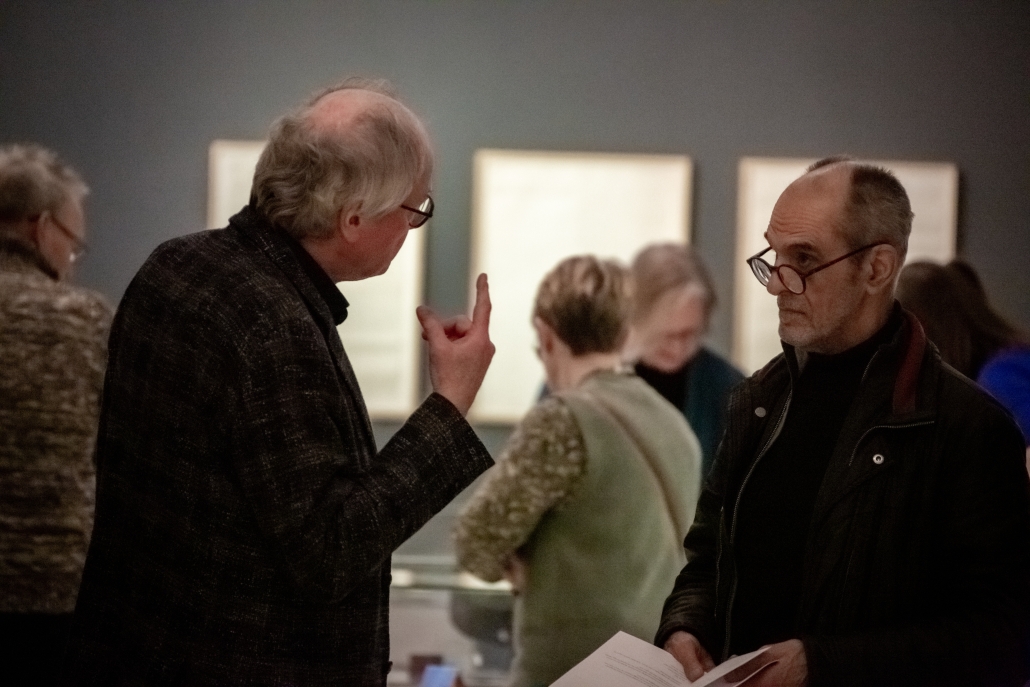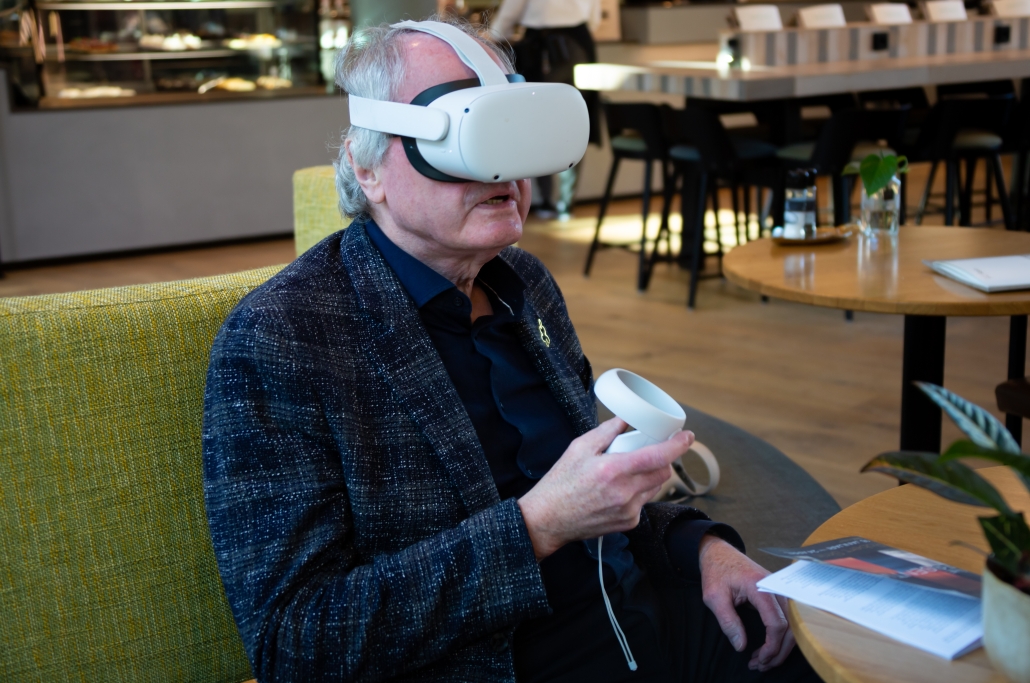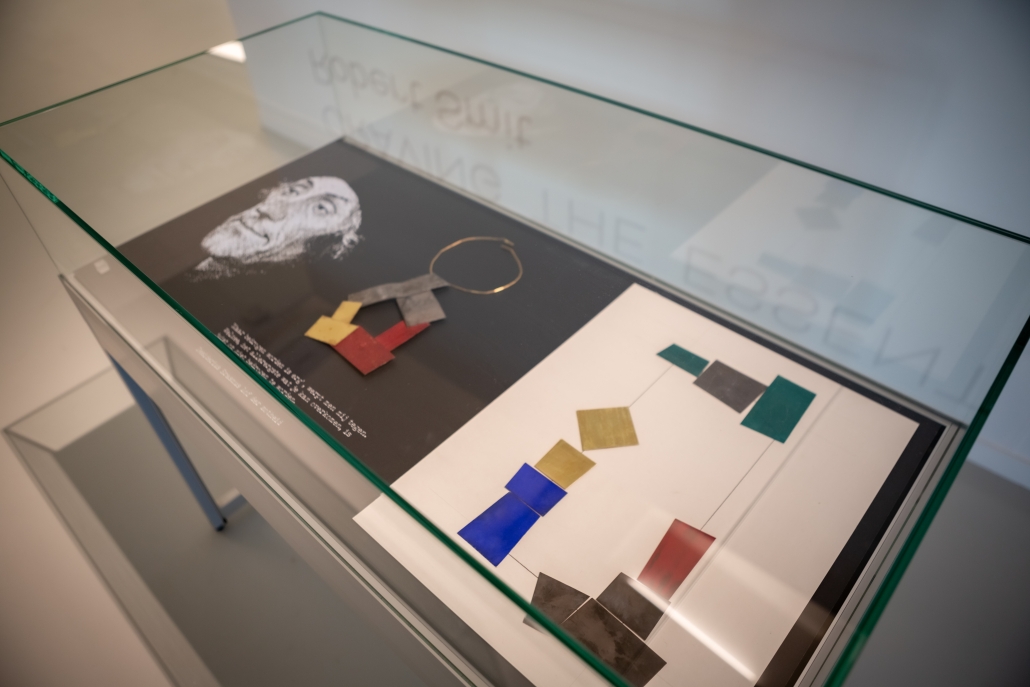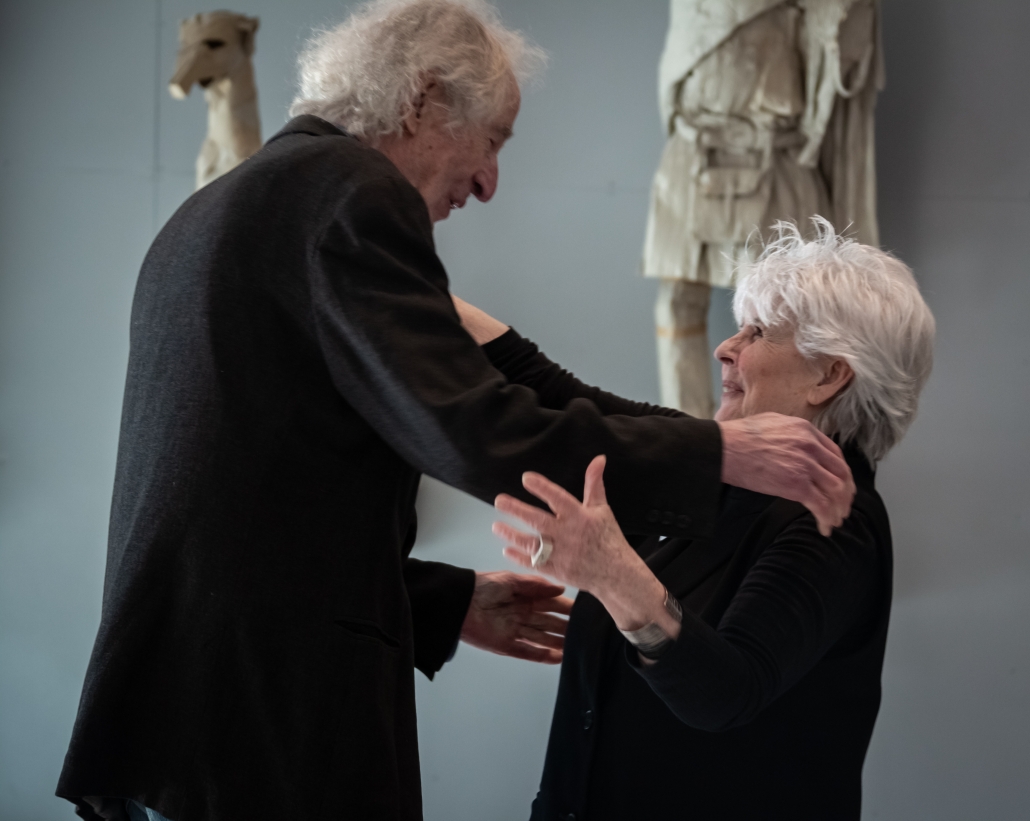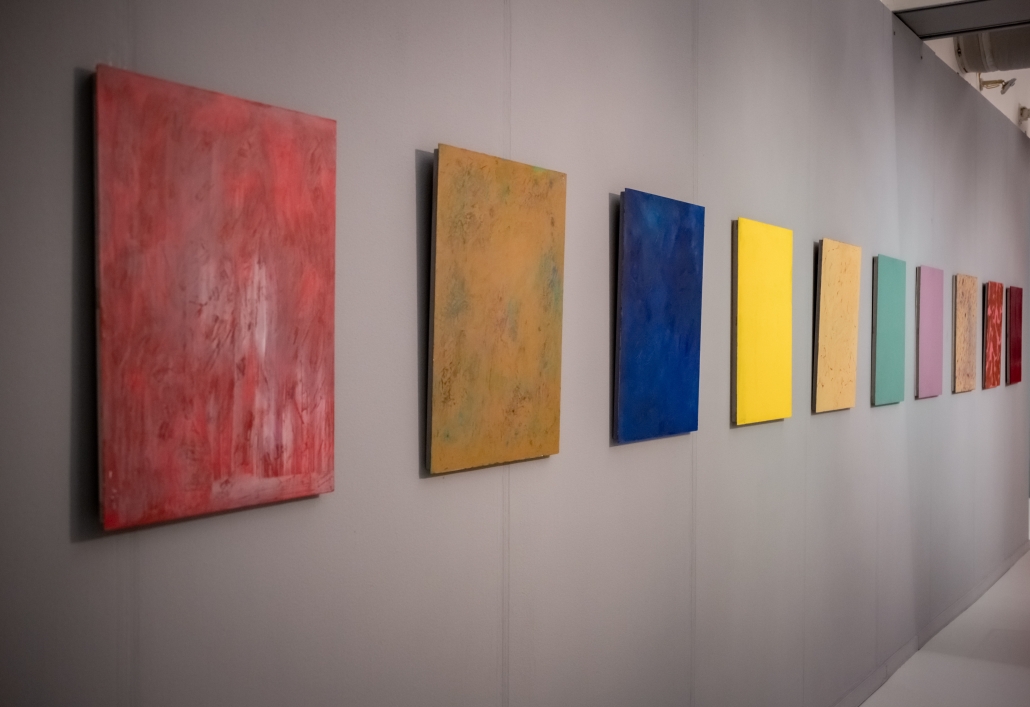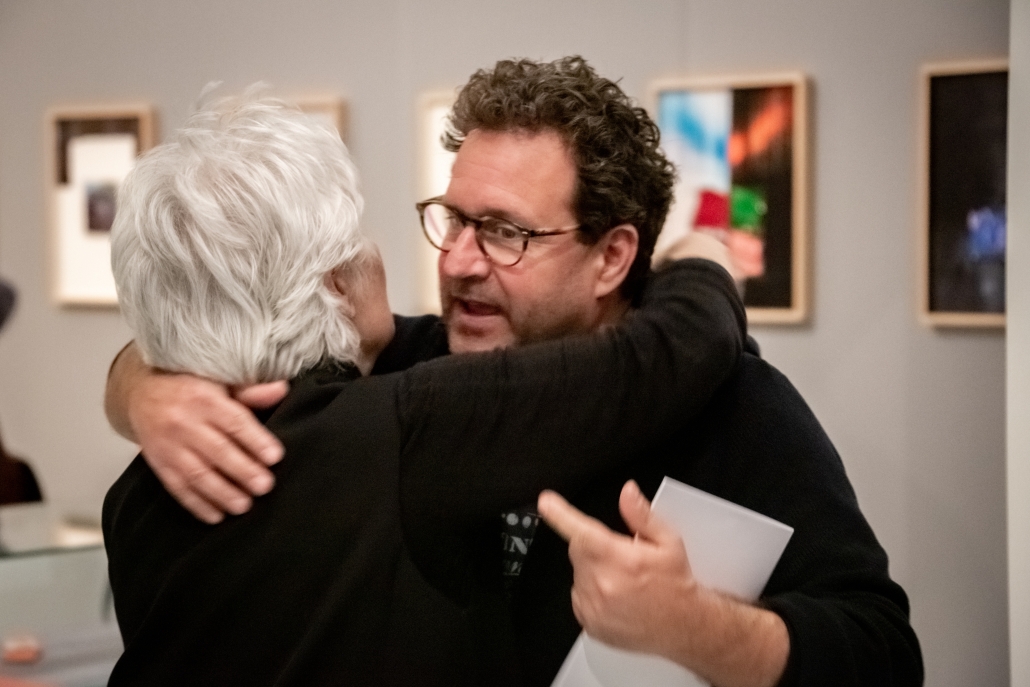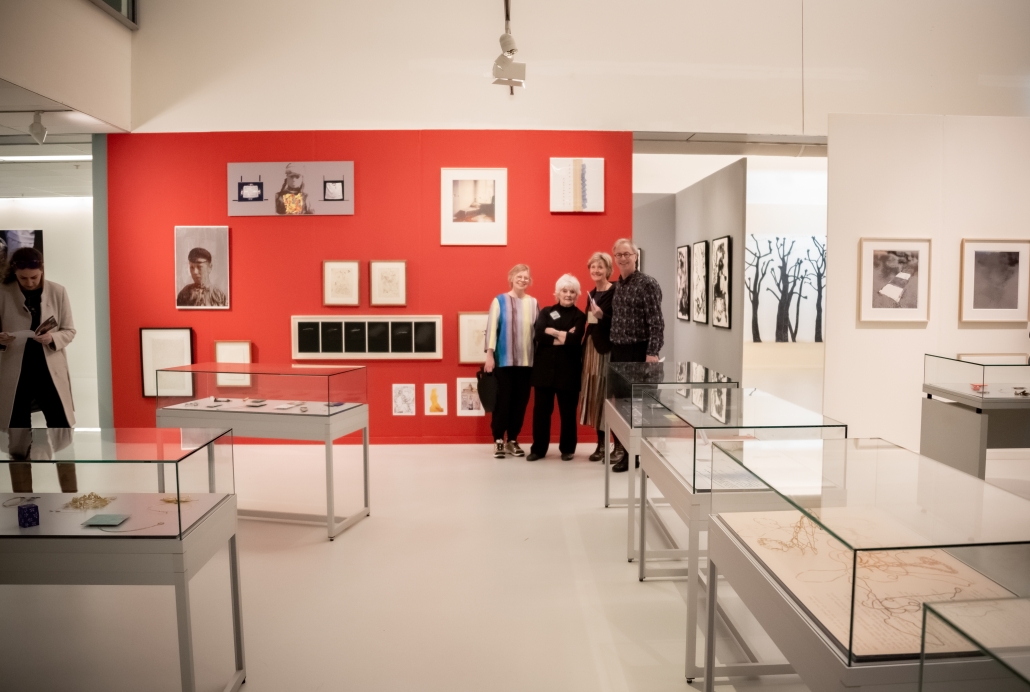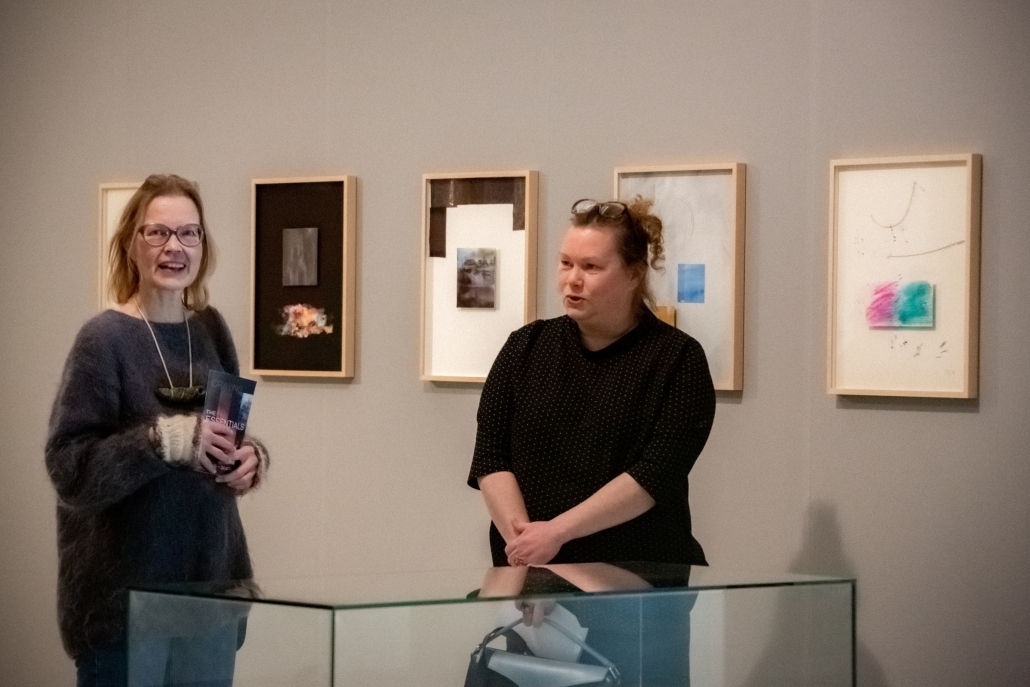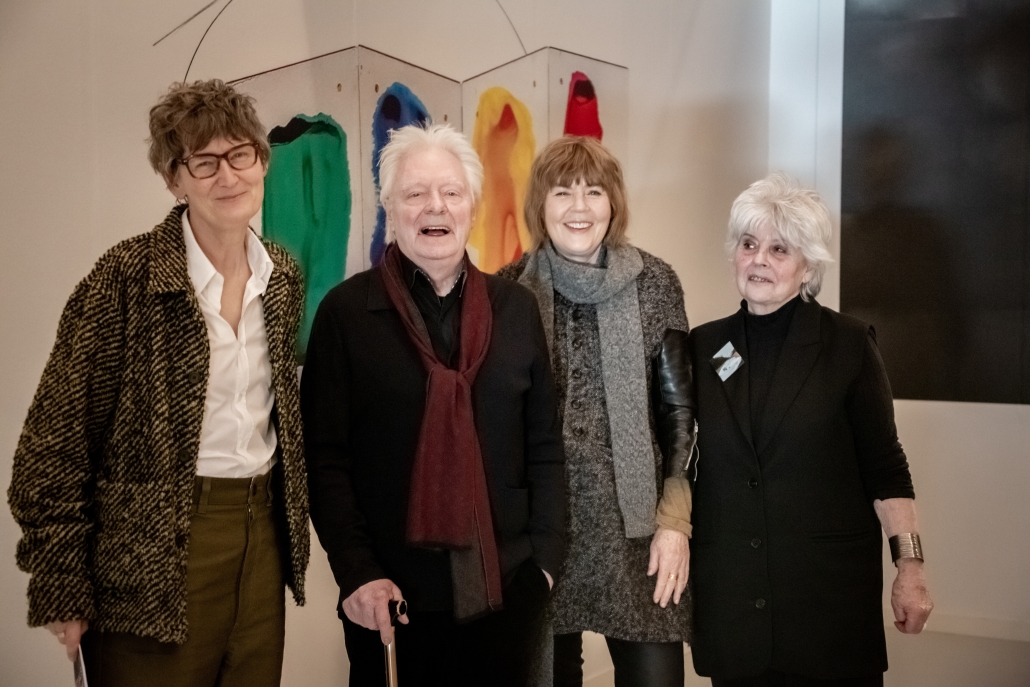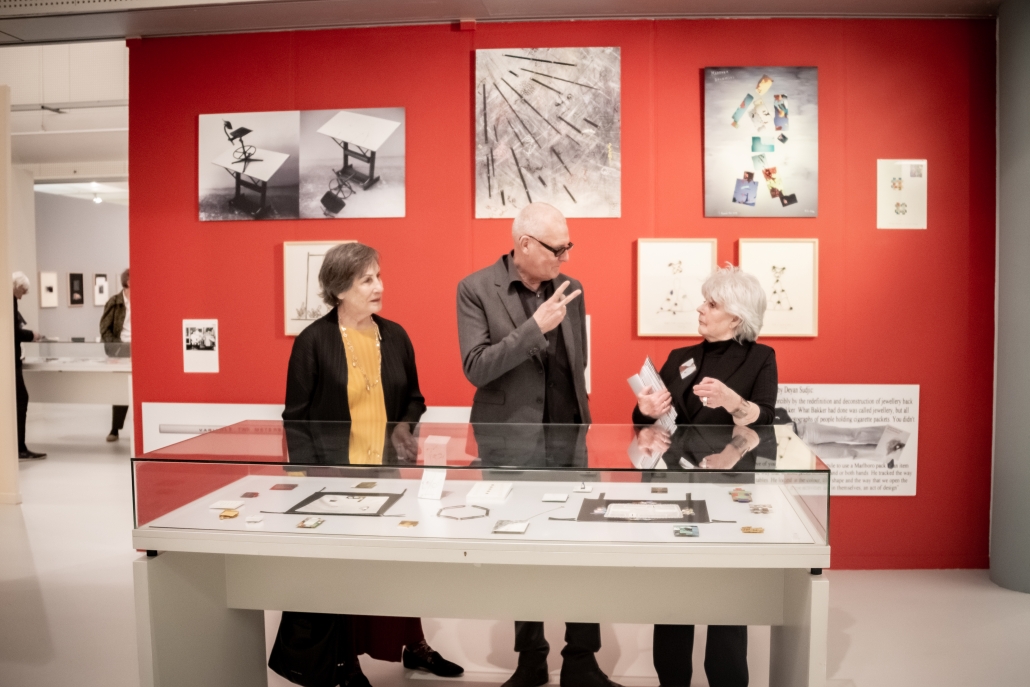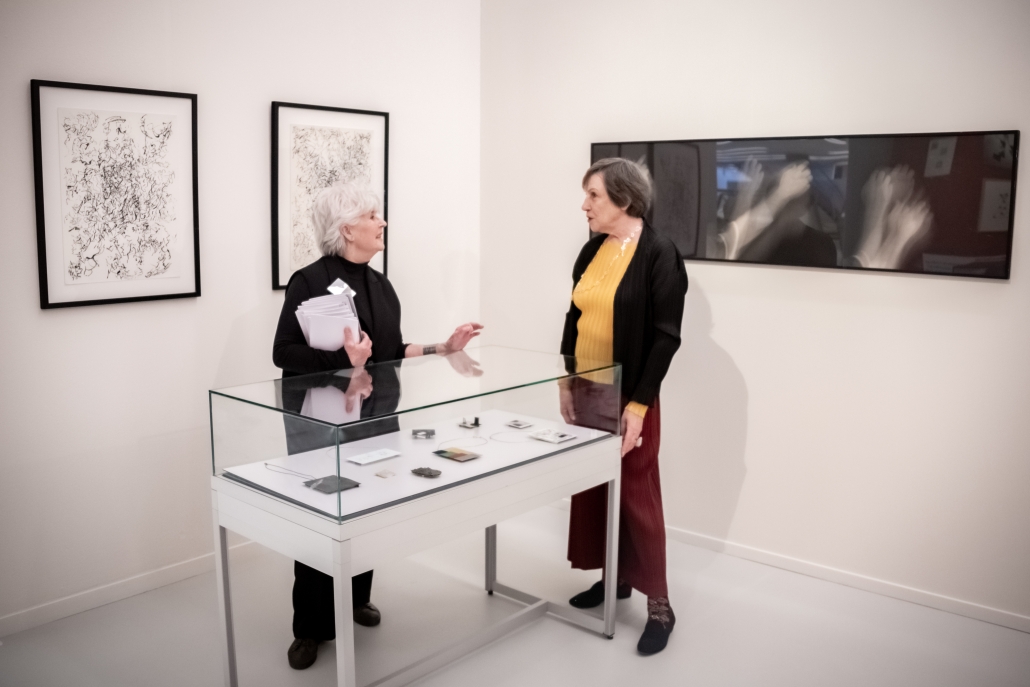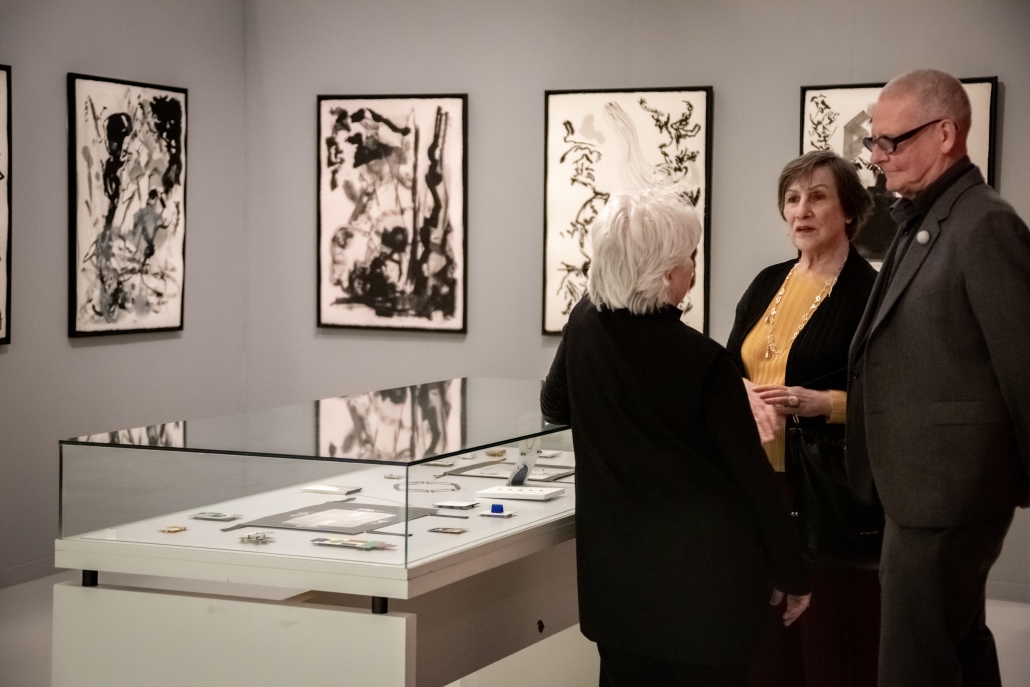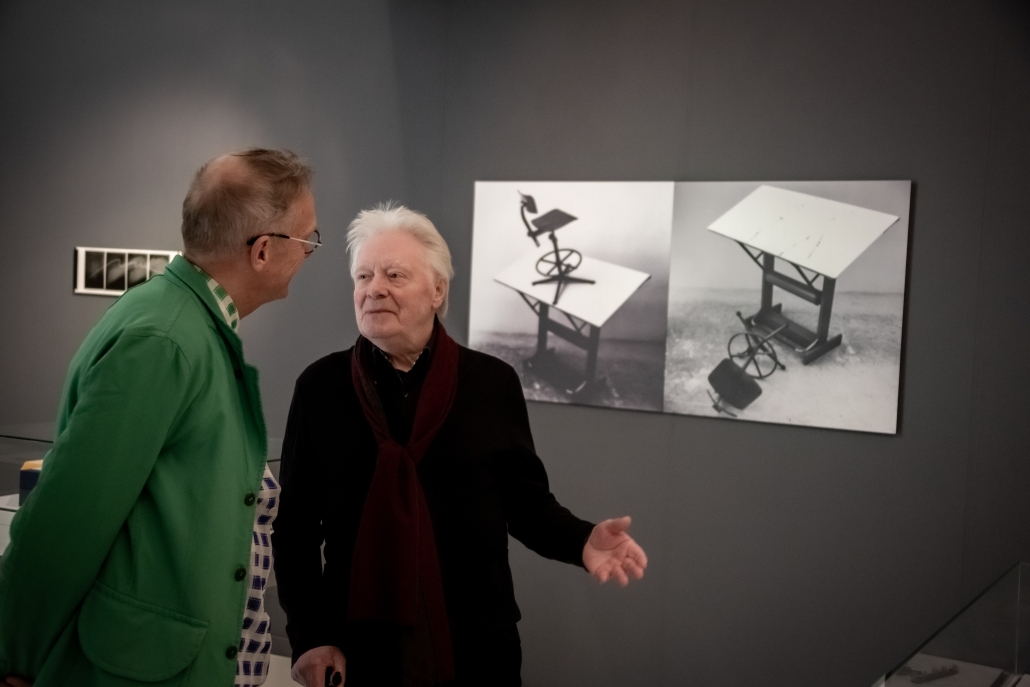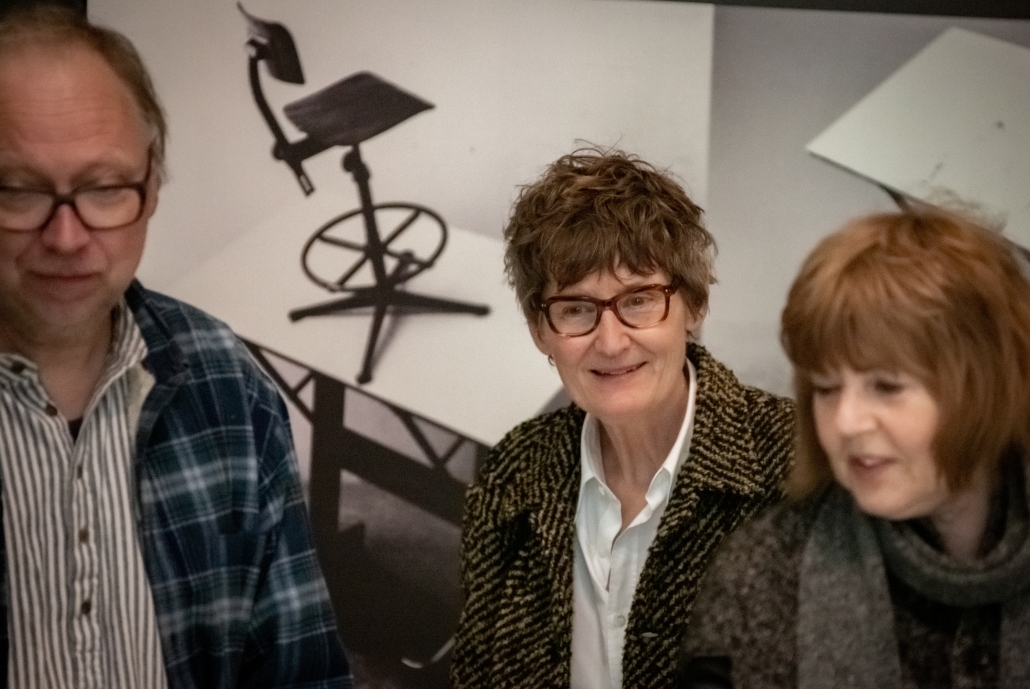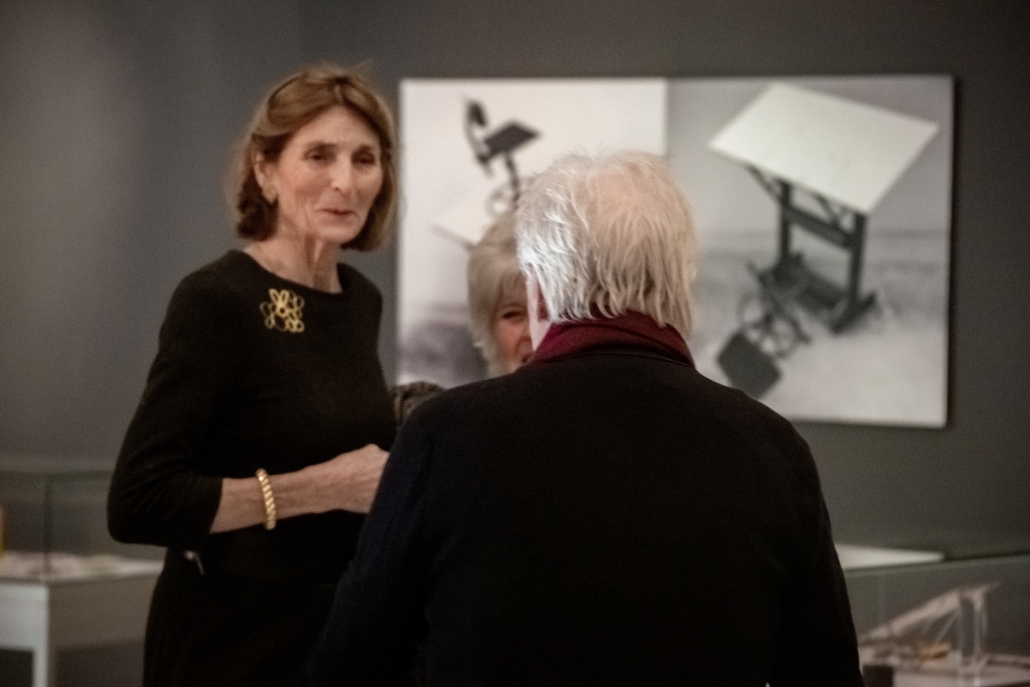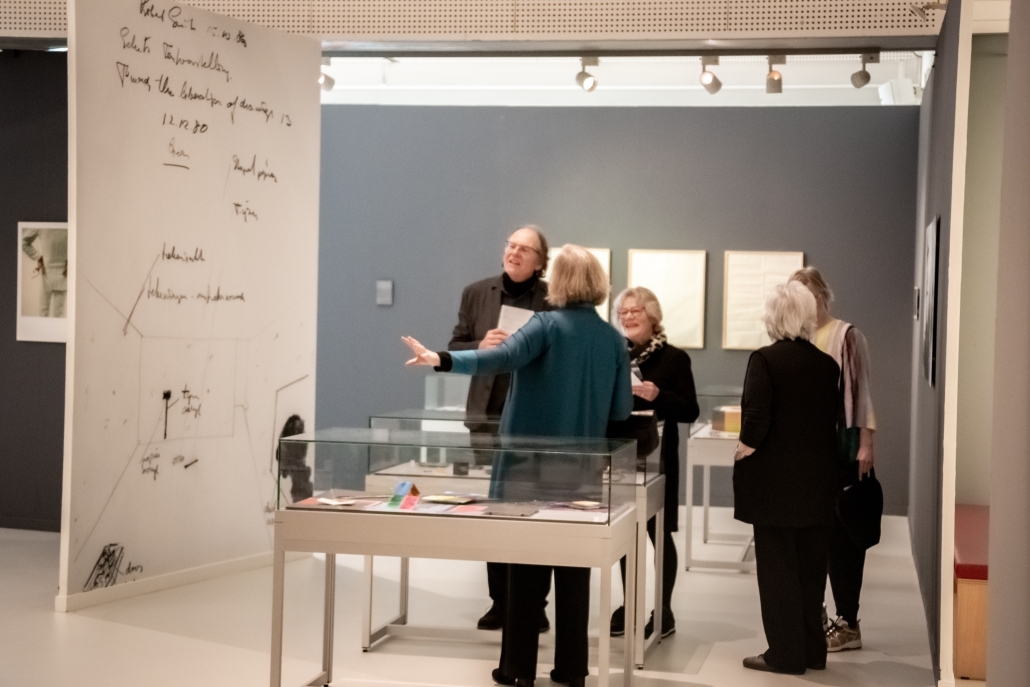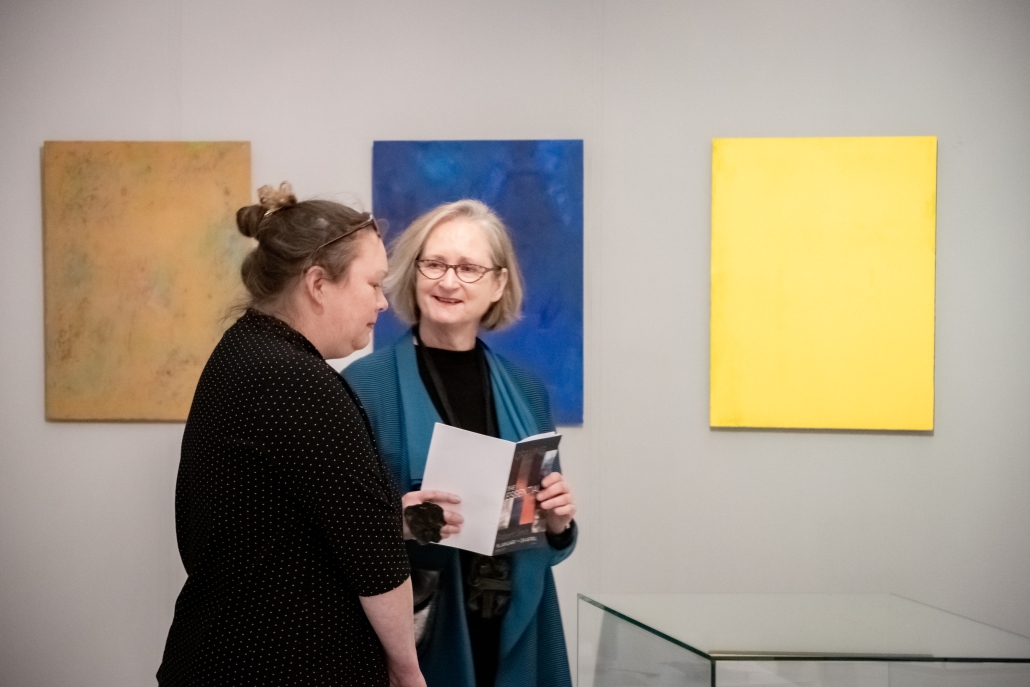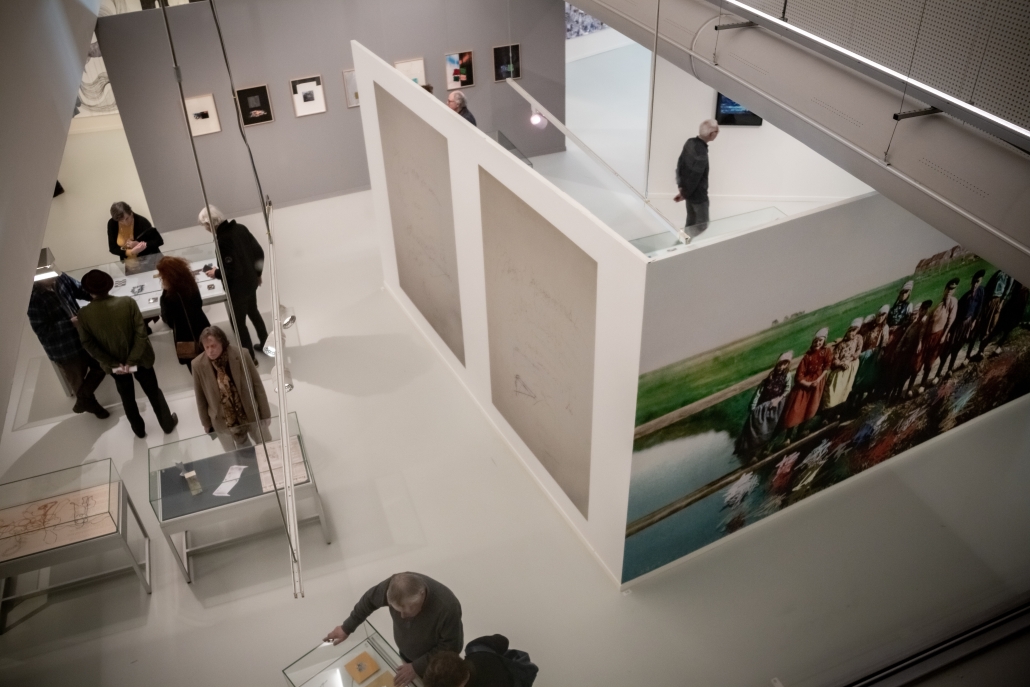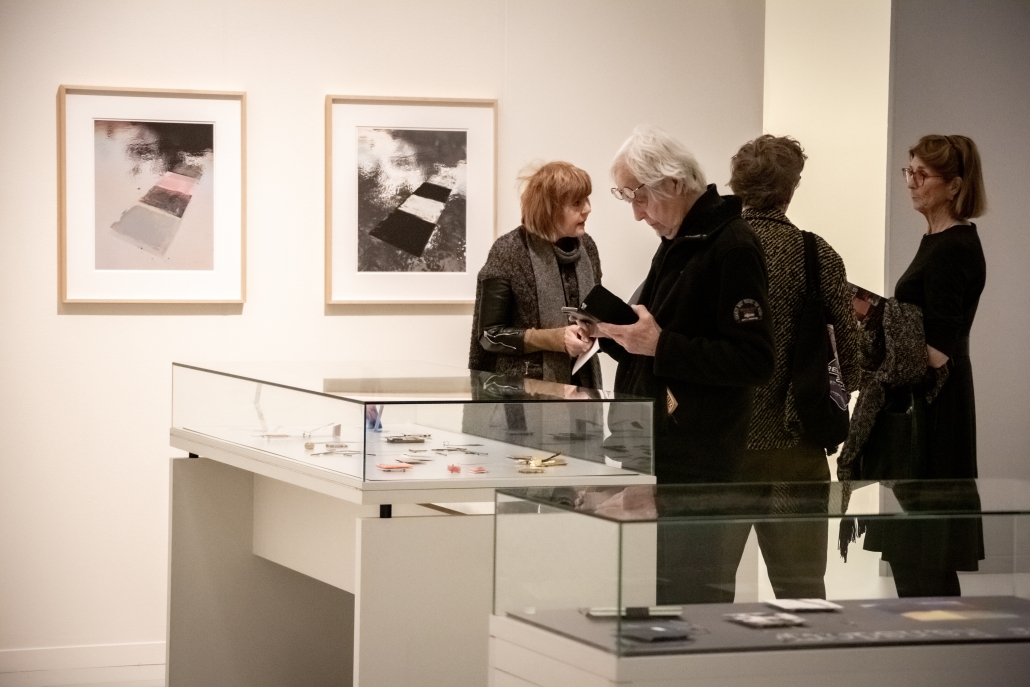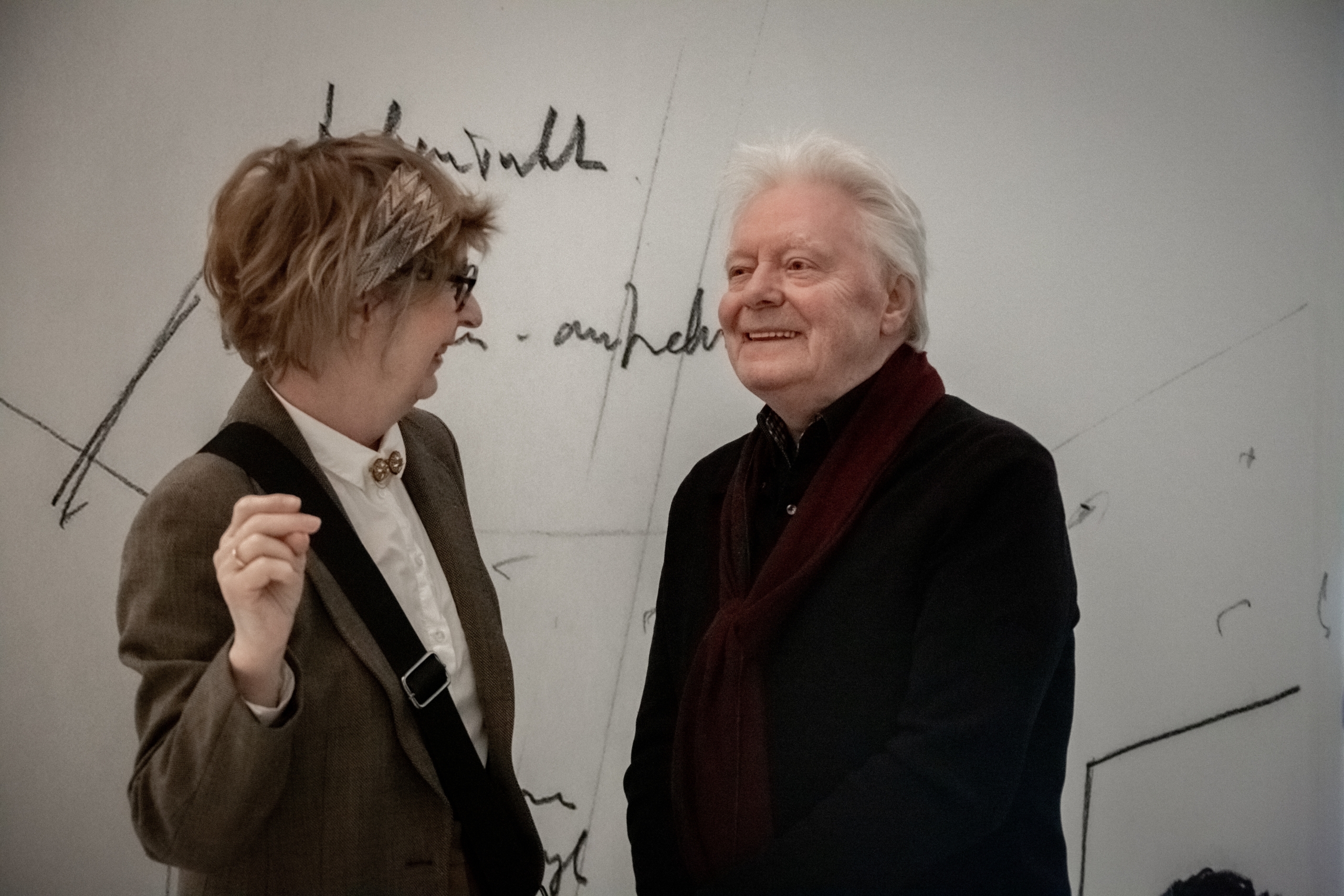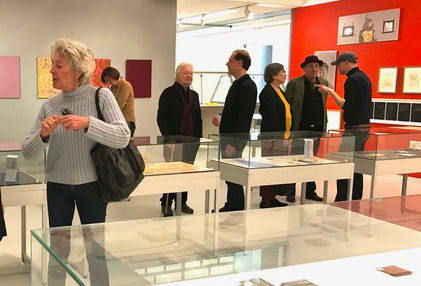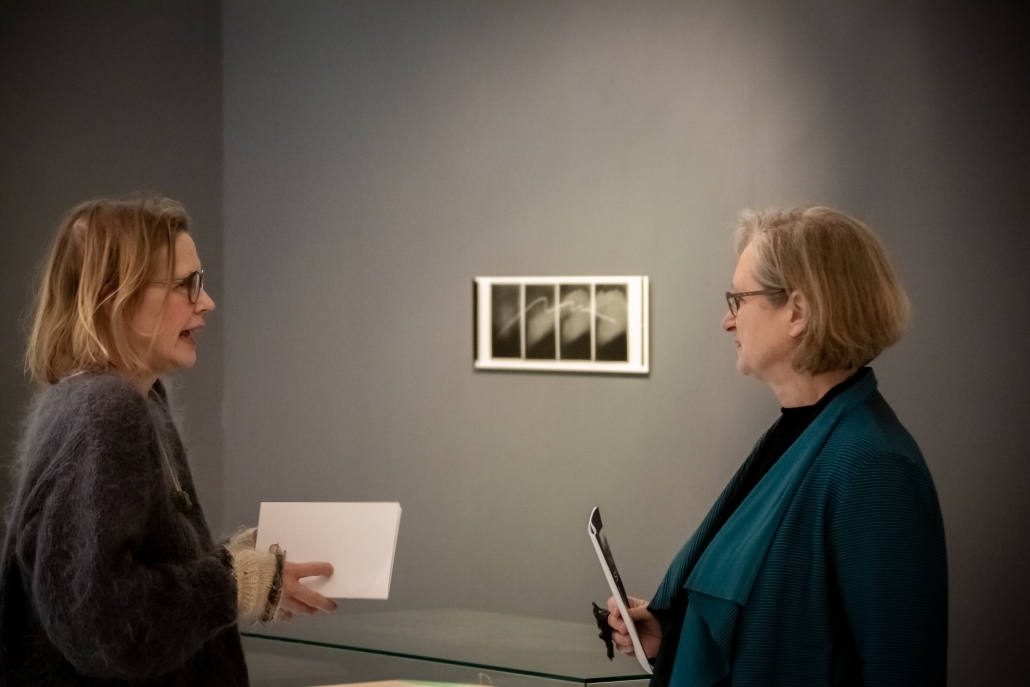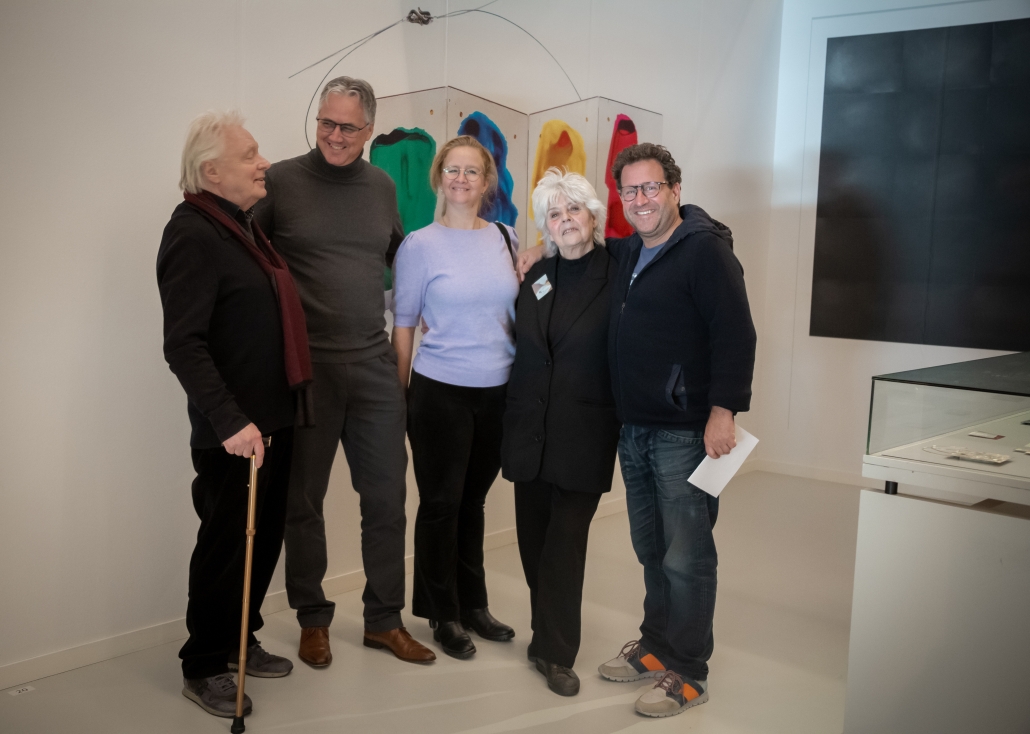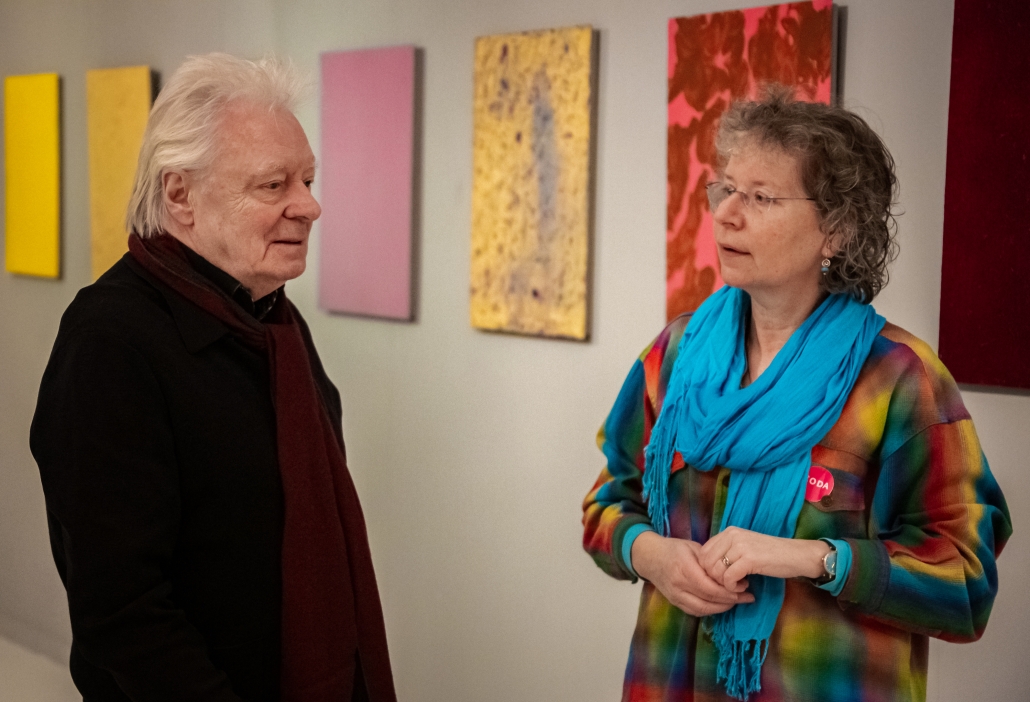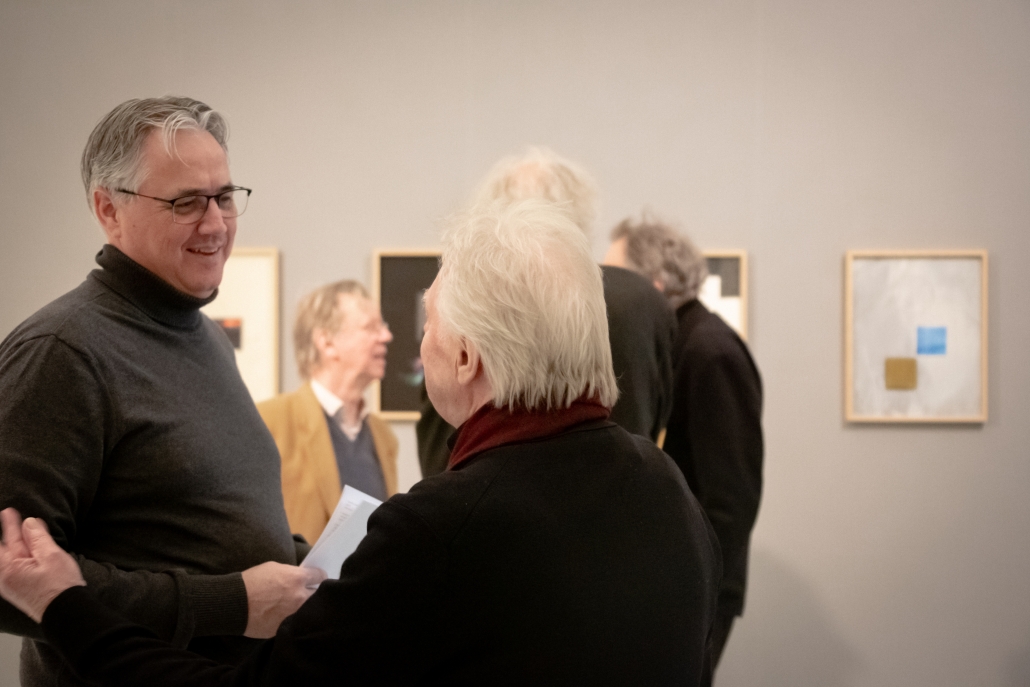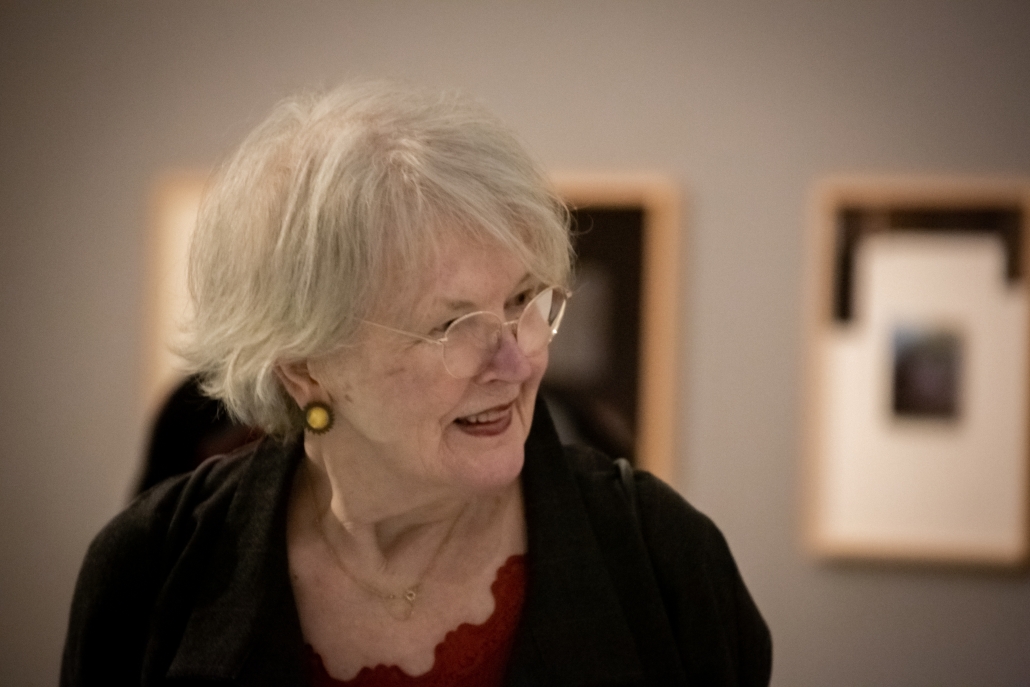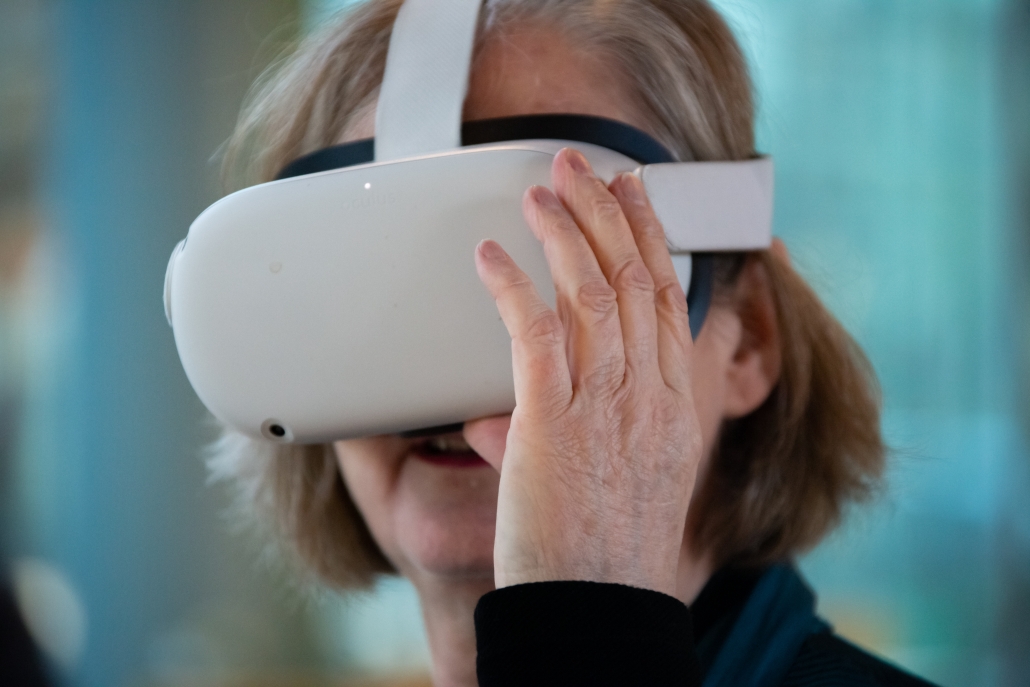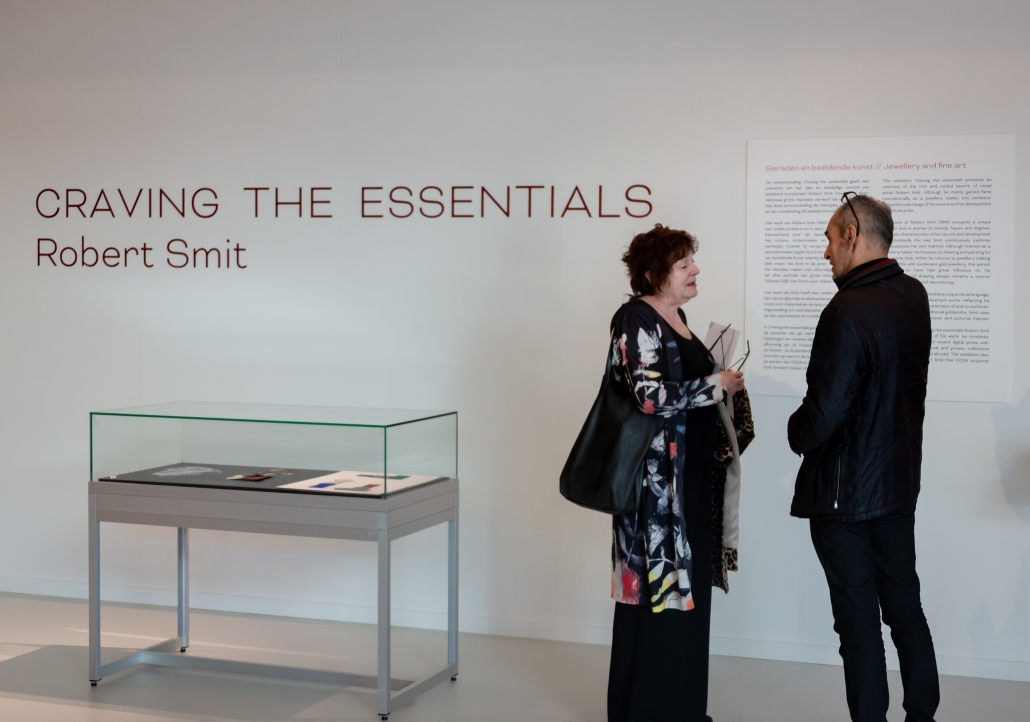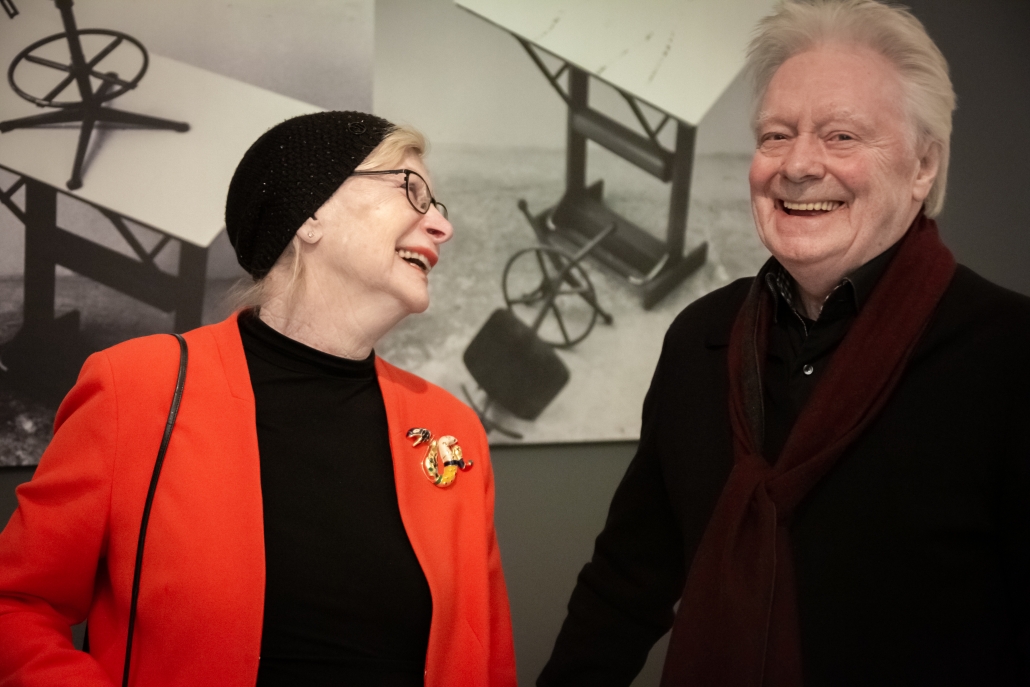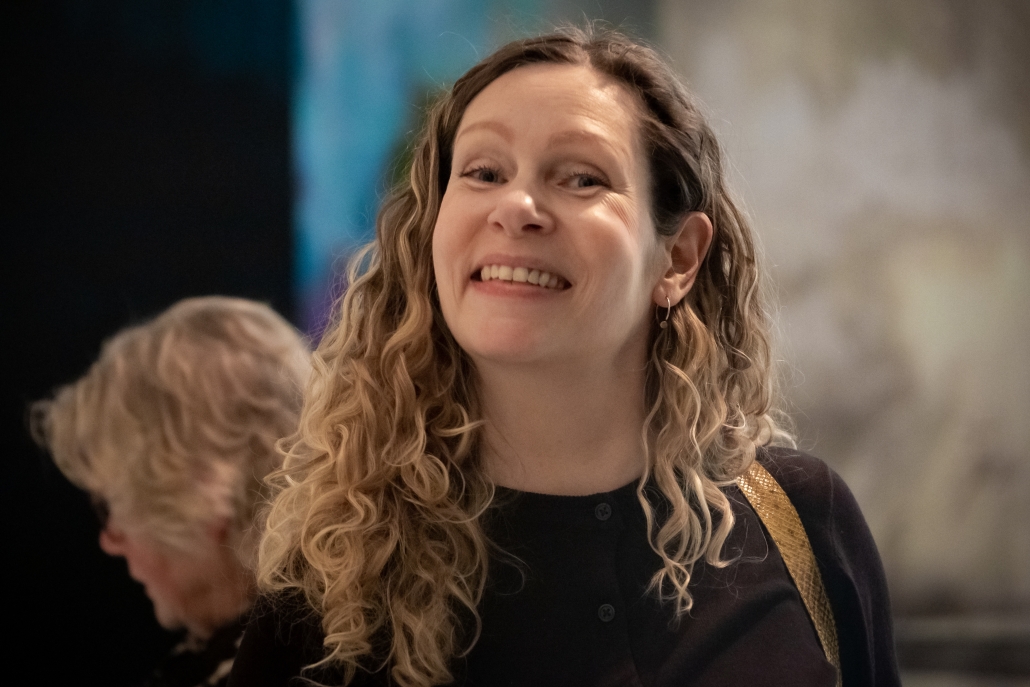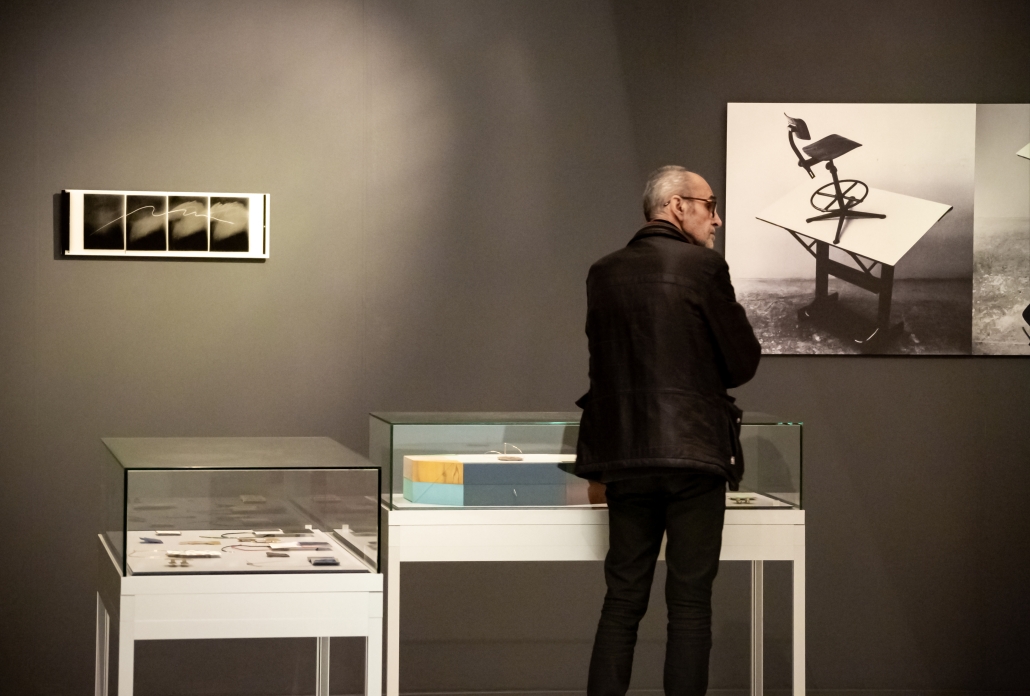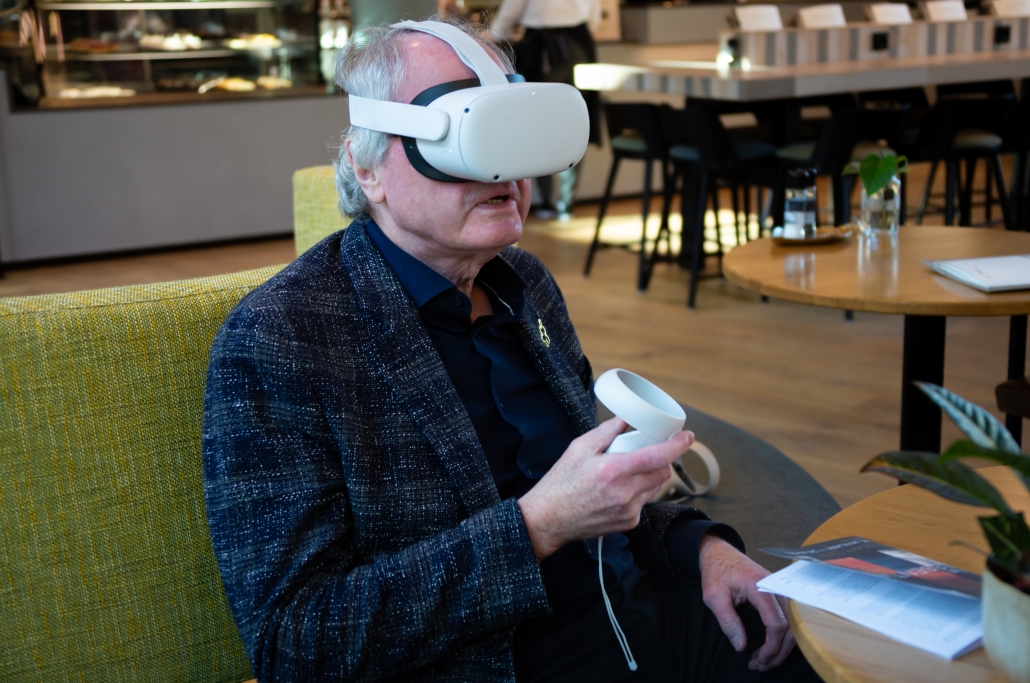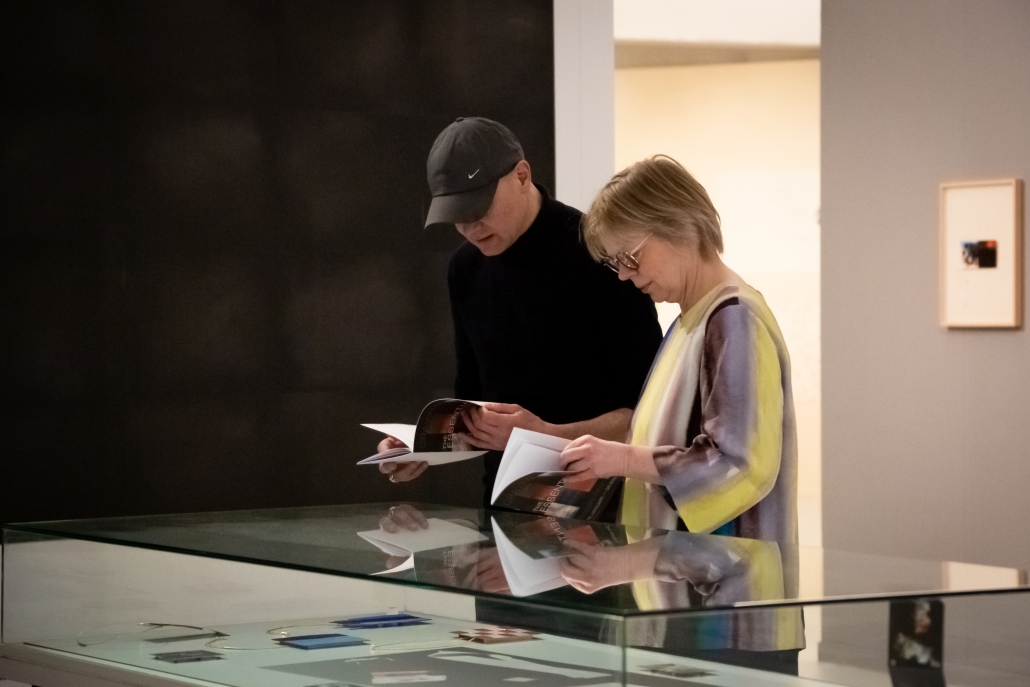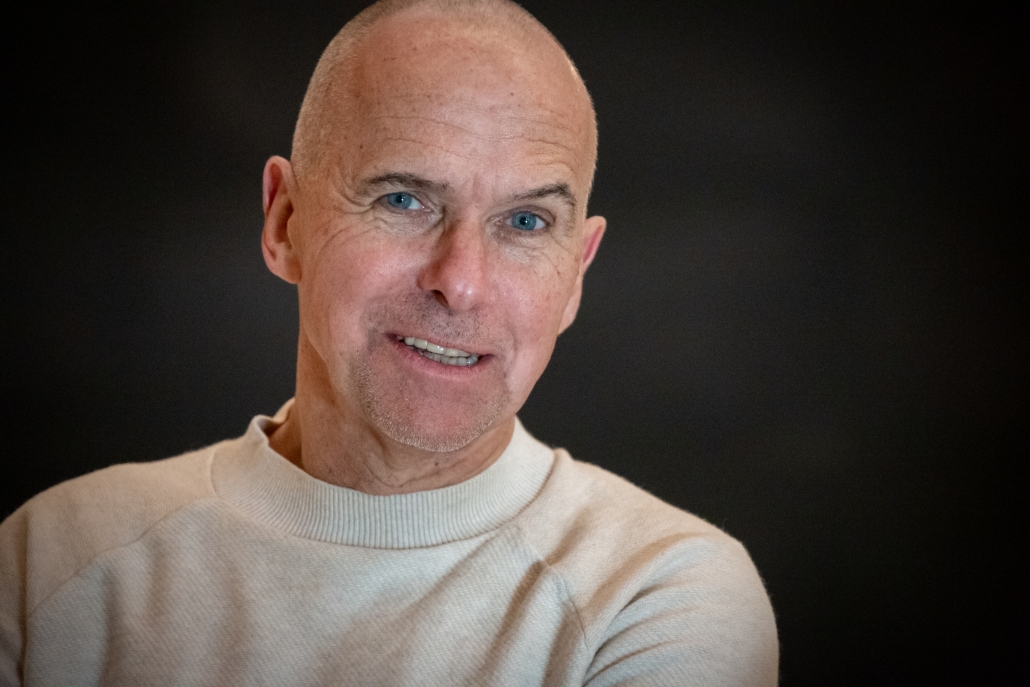 Opening Exhibition Photo Gallery
10 Questions by Rob de Vries About Then & Now!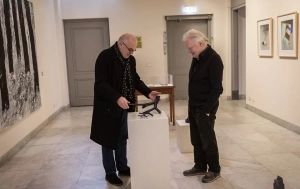 The world of the visual arts and that of jewelry lie quite far apart, but not in your case. A coincidence?
Answer:
No coincidence.
As soon as an ornament's function of being wearable is no longer what it's all about, the step towards the visual arts is not far away. "Everyday Adornment" in 1975 was that kind of decisive moment for me.
Second question:
You were born during the war in Delft in 1941, making you a toddler when the Netherlands were liberated in 1945. Later on you liberated the drawing. Could one say that you wanted to free yourself from something (an enemy or tradition)?
Answer:
If so, then certainly within the tradition of drawing.
You are referring to "Towards the Liberation of Drawings", particularly the series of sheets where a chalk line sketched on paperboard was erased. Thus visualizing the idea that the preconceived image did not correspond with the sketched result.
Third question:
The When Attitudes Become form, dating from the beginning of Conceptual Art, surely applies to you. No well-beaten tracks?
Answer
No. In 1958 when I was seventeen, I saw the work of Piero Manzoni in Rotterdam. My first impressions, introductions were his Achromes, and the relief works of Enrico Castellani at Hans Sonnenberg's Gallery Delta in Rotterdam. And in Gallery Orez in The Hague (run by Leo Verboon and Albert Vogel). Unforgettable!
Later, it was in 1961, I saw a picture of Manzoni's "Socle du Monde". That's when I thought all the work preceding this had become unnecessary. These were my very first encounters with the arts. A great time. One you never forget.
Fourth question:
Did your association with Jan Schoonhoven influence your drawings? I myself would say it didn't. Schoonhoven had his motifs, patterns, repetitions, recurrent themes, sometimes drawn with a steady hand, sometimes also free-hand. His reliefs also became more austere over time, you are more inclined to search for freedom in your drawings. They are charged but also unlabored, natural, experimental, more basic. As an American, Cy Twombly made a connection with European art history, as a kind of bridge. How about you?
Answer:
Jan Schoonhoven was important in a general sense. His work discipline and insight were examples to me of how art emerges and evolves.
The way the first serial relief came about was really striking, and when it
was almost finished it was subsequently demolished, destroyed.
It wasn't any good! But a new relief evolved immediately, a copy of the previous one, and that one was good. I witnessed all this and looked on in amazement.
Of course, when you are young you are influenced in everything you do. Lucio Fontana, who showed the vulnerability of the flat plane. As it happens, also Cy Twombly, who you mentioned, because of his fabulous hand.
I don't have any examples in the field of jewelry, actually. The steps taken in that field occurred in Europe, not in the US.
Presently there's such an incredible amount of information available that new developments from wherever, will have an influence on young folks. No getting away from that. [No buts about it.]
Fifth question:
You studied goldsmithing in Pforzheim from 1963 till 1966, you taught, you won prizes, exhibited jewelry in the Netherlands and abroad, your wife ran a leading contemporary jewelry gallery in the old center of Amsterdam for many years, so you must have seen lots of jewelry. You knew that world. Did you realize early on that your work was quite unique and incomparable?
Answer:
Unique….
Yes, but it's all about the click, the rapport you have with other people. With gallerists, museums, collectors, friends.
Usually interest is aroused when a different view or conception gains validity.
As was the case with my "introduction" of gold in work made round about 1984.
The generally received "jubilant" view about the so-called democratization of jewelry, the imperious dogmas about how things ought to be and other short-sightedness, took a slight knock.
That's why.
Unique is a working method as far as I am concerned.
Sixth question:
As a rule necklaces or neck-ornaments were displayed on the bare skin
above the bosom of a pretty woman. You chose painter Rob van Koningsbruggen as a model. Seems typically Robert Smit to me. It can and should be done differently, no well-trodden paths, is that it?
Answer:
No, but I knew Rob van Koningsbruggen for a long time.
It is precisely his vanity and contrariness, his natural beauty and vulnerability that make him an ideal model.
Seventh question:
The "Towards the Liberation of Drawings" project at Orez (Mobiel) in The Hague in 1978, where in one year, you made a different exhibition each month in those large rooms of the gallery, ten months in a row, a hell of a tour de force, did you know exactly what you were going to make, or did you also improvise?
Answer:
The work evolved as I went along, and in itself it followed an understandable route, which is clearly visible in retrospect.
The cooperation with Leo Verboon was exceptional and in a class of its own.
'Don't hang it too high, lad,' still rings in my ears sometimes, with him nodding his approval while holding a glass of sherry in his hand.
And he could really strut around.
Leo had a lot of knowledge, was a great story-teller, and didn't open the door to just everybody.
Once he didn't let an art critic in, while remarking to me: 'A good dog rings twice.'
Improvisation? Occasionally.
The show in Wales was a surprise that year because I wanted to continue when the gallery closed for a Spring break.
Eighth question:
Let's not talk about this whole corona business. Museums being closed is a drag, but staying inside isn't unusual for a visual artist. Are you busy with your art every day?
Generally speaking I'm always working.
Considering my health I stick to the current regulations. It's a lousy time in many respects.
Ninth question:
In the exhibition Buiten (Outside) in Haarlem you show 5 framed photographs. The background of the photos is a rippled stretch of water, with a design floating on it for what looks like a compounded ornament, placed on a diagonal with a vanishing point top right.
How did you arrive at this form of presentation?
Answer:
The image is composition of 2 photographs:
the first one is a reflection of a cluster of clouds in the water,
the second photo is of an object without any specific characteristics.
It was drawn gradually and computer-generated from a series of works exploring color.
I became interested in the opposite color.
——— February 2018. I see the opposite color as a supplement to that color: the reverse side? upside down?….. a new identity.
It is as if the color acquires a completeness which, in my eyes at any rate, wasn't there before; as if the color achieves a certain volume, a certain weight, mass.
In reality this isn't the case of course, but I can imagine it.
It is like the manifestation of metal with a mat or otherwise glossy surface. In many ways it is the same, but it can nonetheless have an enormous effect on how you observe it ——-
Choices regarding lighting, shade and saturation of color, are in line with my commitment to and my partiality for this marshy landscape.
At times it's just as if the light is absconding with the landscape.
Tenth question:
In "Letter to Madonna delle Dolomiti" * you made a group of works that can also be seen as sculptures. I know these works dating from 2013 from your Padova catalogue. A vertical strip of metal sheet, maybe 1 mm thick, its shape folded in such a way that at each end a part is folded over, at the bottom at a right angle, at the top less so, but both in the same direction. The bottom surface can be put on a table for instance, and in the middle, going up, halfway, there is a small bend, to make the vertical object more stable probably.
* cover: Brooch 2013 cat. Padova
Answer:
Madonna delle Dolomiti
In August 1980 I heard her sing.
A cappella.
We were on our way to Amsterdam, coming from- Venice.
I was driving and riding on route 242 between S. Cristina and S. Pietro.
It was night and the sound was coming from the car radio.
An Italian yodel of the most exquisite kind.
The quality of her voice was beyond all comparison.
Even if I had been able to understand the language, the
lyrics would not have mattered at all, their significance
being absolutely secondary to her voice.
The meaning of the song for me consisted in the
sounds.
These sounds and intonations produced an unprecedented sense of enchantment.
When the song was over, I believed myself to be in
heaven.
This moment of beauty and enlightenment has never
left me since.
In my current work, I search for a similar kind of purity and excitement. My fellow-passengers, Wim, Karel and Kees, were
asleep when she was singing, so I had the sound of her
voice all to myself.
When I, all excited, told them about this experience of sheer
bliss afterwards, they looked at me incredulously.
Robert Smit (October 2006)
Question 10A: reserve question
How do you look at the today's art, where politics, matters of race, the slavery past etc.
seem to be the main issue, instead of interesting concepts, beauty?
Answer:
You find these kind of politically motivated statements not only here, but around the whole world. It all feels a bit forced, contrived.
Translated by Susan Janssen
Letter from Jan Schoonhoven
Article by Liesbeth den Besten / Metalsmith / March 2013
In January 2013, Dutch artist Robert Smit (1941) exhibited drawings from the period 1975 -'85 and recent prints at the exhibition 'The Present is the Result of the Past' (Galerie Locus Solus, Antwerp); also some recent brooches 'Letters to Madonna delle Dolomiti' were exhibited. The new work can be observed as a transformation in different techniques and materials of the earlier drawings. One can say that this is Robert Smit all over.
Although he is mainly known for his art jewellery, his work has been directed by drawing continuously.
As a boy Robert Smit attended a technical school for instrument making in his hometown Delft, and at the age of 19 he was repairing jewelry for a jeweller's shop. In this period he met Zero artist Jan Schoonhoven, whom he visited almost every day, fascinated as he was by his personality, his art, and the jazz music they listened to.
While friends gathered in Schoonhoven's living room, drinking and discussing movies, literature and art, the artist 'stood at the table and glued with great calmness his reliefs' as Smit tells – it left an indelible impression on young Robert Smit. Schoonhoven's reliefs were made from horizontal and vertical cardboard strips attached on a square wooden plate, and painted monochrome white. The aim of Zero was some kind of tabula rasa in the art, a working from the scratch with a new society and a new aesthetics in mind.
Jan Schoonhoven encouraged Smit to apply for the Staatliche Kunst + Werkschule in Pforzheim (Germany). Although Smit didn't have the qualifications and had to fix his papers, he was admitted and became a student in the class of Klaus Ullrich. In 1966, he graduated cum laude and returned to the Netherlands. The same year he won a gold medal at the Schmuck exhibition at the International Trade Fair (IHM) in Munich. In 1971 Smit stopped making jewelry.
In Ralph Turner's 1975 published Contemporary Jewelry book Robert Smit is present in the artists' statement chapter. We see a portrait of a self-conscious young promising artist, sitting on a chair, photo taken from above, dressed in closely fit shirt and jeans covered with stains, a felt tip pen in his hands. His statement reads: 'In short: it all happened on a beautiful warm day in May, Ralph, a really great day with a superfabulous happening: the day I sold my goldsmith's equipment for 2000 guilders.' 1)
His reasons for stopping jewelry were personal: 'My idea of what jewelry or an ornament should be had an affinity with the visual arts. So the most obvious thing to do, at that point in time, was to start drawing and painting. I wanted to work for myself, to break with conventional standards, and to be able to do that, I had to stop designing jewelry.' 2) In this period Smit created jewelry that was anchored in the fine art movements of his time, such as informal art and Zero. This work was not really appreciated by Dutch colleagues and Dutch art institutions that took care of a series of contemporary jewelry exhibitions in the country and abroad. His poetic and tactile work didn't fit in the newly discovered 'Dutch school' of jewelry that was inspired by formal and geometric constructive art, and took serial working – preferably in steel and aluminium – as its method. In stead Smit's jewelry, either entirely made of gold, or consisting of combinations of acrylic, gold or steel, concentrated on the investigation of the surface and was conceived as one-of. Early work, around 1966, deals with the erosion of the surface but eventually the material treatment became more structured. The punching of rows and fields of small holes, combined with lines of numbers and loose words or letters showed his interest in traces on the surface. From there the step towards drawing was not a big jump.
Besides drawing also painting and photography became his media. He embarked on a research into the properties of drawing, the movements of the pencil, the touch of two different materials emanating from the movement of the hand. With the help of instant photography, a new and exciting artistic device in those days, Smit made a series of Polaroids of different movements of the hand while drawing, and of his hand playing with a pencil. Instant photography was also his last contribution to a jewelry exhibition in this period, the Jewellery in Europe exhibition (1975) curated by Ralph Turner. Smit submitted a series of 205 Polaroid photographs of a man holding two packets of cigarettes on his back, showing 'synchronous movements of my favourite hand-adornment' as part of the descriptive title of the work reads. Smit's work extremely well represented the sub theme of the exhibition 'an exhibition of progressive work' but as a matter of fact the progression in Smit's work was not prompted by jewelry but by fine art.
It was not his intention to become a conceptual jeweller; at that time he had lost interest in jewelry.
Article by Liesbeth den Besten / Metalsmith / March 2013
In 1978 a series of 10 exhibitions in one year Towards the liberation of drawings at Galerie Orez Mobiel in The Hague, showed that he took his artistic research very serious, taking into account different conditions and a priori givens. All kinds of techniques and methods were explored in an incredible flow of productivity in which the act of drawing was central. Even a hiking tour in Wales turned into an exploration of drawing, an attempt to catch the village of Cwrt by approaching it from different angles while never reaching it. Drawing became a continuous source of making, remaking, copying and reproducing. For 15 years Smit was fascinated by the phenomenon of drawing, resulting in a solo exhibition at the Stedelijk Museum in Amsterdam in 1984. One year later Smit re-entered the jewelry world with the Ornamentum Humanum exhibition at Galerie RA in Amsterdam. At that time he thought 'nothing could be added to drawing, the research was finished. Miraculously these ideas made it possible to start making jewelry again'. Much has been written about this exhibition not in the last place because it raised a published debate between Rob Smit and Gijs Bakker, which was centred on the issue of gold and the issue of artistic integrity. 3) In those days gold still was a non-accepted material in the radicalized Dutch contemporary jewelry scene, although some young jewellers (s.a. Annelies Planteijdt and Philip Sajet) had cautiously started using it. The Dutch purists did not appreciate Smit's idiosyncratic use of gold, curled up, creased, serrated, flowing, and oxidized while elaborated with drawings, scratches and imprints. Smit's material treatment revealed the immense sculptural and artistic properties of 24kt gold, he discovered the material anew. But the debate in the Netherlands was concerned with the future of contemporary jewelry and Gijs Bakker accused Smit of re-establishing jewelry as a status symbol. This time Robert Smit was not taken aback because he had discovered a new trail in his artistic research of rhythm, line, and structure.
From the first series of jewelry in gold, new series developed, oxidized and painted with vibrant colours, in cubes, swirling forms, and plaited compositions. With the Bello series, around 1992, the narrative entered his work. The dog Bello, acting as Smit's alter ego, brought along with him other actors such as Bello's sister, and the innocent young girl Lili, her doll, the fat man and the workingwoman, characters inspired by a comic strip but phantasms at the same time. Together they formed a narrative, like a sequence of stills from a movie that still had to be made – open to interpretation, to anyone's imagination. Some of these pieces showed how Smit, while under the spell of gold, at the same time tried to break its magic by covering it under layers of paint. In 2004 he expressed his fascination for gold: 'It cannot be compared to any other material, the strength of colour and tone, the intensity. If I make an alloy – I always do this myself – it is incredibly exciting to see if it has the colour I wished. The tonality of gold is so immense, so rich, I can work with that the rest of my life.'
During these years drawing and painting remained important, though somewhat concealed to the outside world because they were rather supportive. Around 2004 he started re-working drawings he made 25 years earlier – the Cwrt drawings, notations of landscapes, roads, impressions and places in Wales. These drawings were made in a period of great artistic activity, in 1978 the year he had 10 exhibitions of drawings, and as a matter of fact he had never properly finished the Cwrt series. Now he started to work on this, in studies on paper, and with the help of collages. This helped him to find out how a drawing, that looked like an allotment, might occur as a piece of jewelry. He created a series of large gold pendants, which showed compositions consisting of small bits of painted gold, silver and lead scattered over a square field of glowing and scratched gold. These pendants worked like two-dimensional works of art, illustrating that the body is not Smit's first motive for making jewelry: 'I've never had the feeling that my jewelry should connect with the body. Whether it is on a table, in a museum, or on the wall – it is equal to me. Besides that jewelry should be examined in your hands, like drawings. The people who are wearing my jewelry enter into a connection with me. It can be rather confronting, it is never noncommittal, as an artist you loose your control.' This must be rather disturbing for an artist who tends to keep his other artwork, the drawings and prints, to later rework them if he feels there is a need for it, if there is more to express for instance.
The need to tell is the motor of his work. Stories pop up continuously: stories about Bello the dog, the encounter of Erasmus with Thomas Moore, and Madonna delle Dolomiti – a mysterious woman with an exquisite voice. On a nocturnal drive through the Dolomites, Smit heard her crystal-clear voice sing an Italian folksong on the car radio. It was just a short moment in time, enough to get under the spell of her voice; in his imagination he makes the drive again and again to feel the same enchantment. 'This is what's it all about. This is the way I want to create art. (…) From now on I want to design jewelry that shares the same incomprehensible brilliance, that partakes of the same ineffable clarity. This brilliance, this clarity, is the essence of all art to me.' 4) The Madonna delle Dolomiti as the epitome of beauty, became a source of inspiration.
In the same period Smit started investigating digital technology as an artistic tool by drawing on the computer, and printing with a professional Epson printer – on paper, and on inappropriate materials such as wood and gold. It took him quite a while to develop a method to adapt ink to gold via a layer of paint. The first results were shown in the exhibition Madonna delle Dolomiti (Galerie Louise Smit, 2008), where jewellery was shown alongside computerdrawings. According to Smit 'the possibilities of digital drawing are immense. Drawing with a pencil on a tablet is lovely, it is another experience, much faster and manipulative. It is not about indolence, your effort is the same but you can react faster with the computer. I can spend days behind the computer until the image doesn't change essentially, it is a continuous dialogue with the image.' Again he is re-using drawings in another context, besides using the letters he has been writing for quite some time addressed to the imaginary Madonna delle Dolomiti. Smit: 'I think I have become too much encapsulated in jewelry. I want to have it in balance, drawing and jewelry – it is so close to each other.' Sometime they merge and sometime they go their own way – together they are the essence of his art.